What is Lidl? 5 things the German grocer is bringing to America
* What is Lidl? 5 things the German grocer is bringing to America.
Jeff Eats recently read this Washington Post article about German supermarket chain Lidl- and its expansion into the United States. The bet here- is that sooner rather than later we'll see Lidl opening in Florida!
____________
from washingtonpost.com
What is Lidl? 5 things the German grocer is bringing to America
By Abha Bhattarai June 15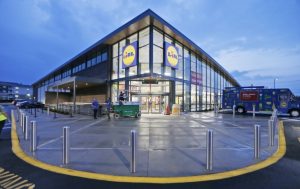 Lidl opened its first 10 U.S. stores Thursday, including this one in Virginia Beach, Va. The German grocery chain plans to open 100 U.S. locations within the year. (Steve Helber/Associated Press)
German grocery powerhouse Lidl arrived in the United States on Thursday, opening 10 new stores along the East Coast and putting big-name companies like Walmart, Whole Foods and Trader Joe's on high alert.
The company, which has 10,000 locations in 27 countries, is hoping to win over Americans with its sweeping discounts, modern stores and carefully-curated wines. Its newest supermarkets are concentrated in Virginia, North Carolina and South Carolina, but 90 more East Coast locations are planned for the coming year.
The company, which has its U.S. headquarters in Arlington, has been quietly testing its plans for the American market for over a year, using a prototype store in the Fredericksburg, Va., area in Spotsylvania County to understand its newest shoppers. (Among other things, executives say Americans expect chilled beer and free bakery samples, which Lidl is adding to its U.S. stores.)
But what exactly is the Lidl (pronounced lee-duhl)? And what will its U.S. stores bring to America?
1. Even lower prices in an industry that is already offering huge markdowns
In an industry marked by cutthroat competition and mounting markdowns, Lidl executives say they plans to offer even larger discounts, with prices that are up to 50 percent lower than at rival stores.
This week's offers, for example, include 99 cent red bell peppers, 89 cent pineapples and 39 cent butter croissants (which a spokesman says have twice as much butter as the typical croissant). The company's circular is also touting jars of peanut butter for $1.19, chicken breasts for $1.29 per pound and frozen pizzas for $2.99.
The grocery business is a notoriously tough one — nearly 20 U.S. grocers have filed for bankruptcy in the past three years — and the introduction of Lidl and fellow German discounter Aldi, which is investing $3.4 billion to open 900 U.S. stores, is set to intensify that battle.
Roughly 90 percent of Lidl's products are in-house brands. Brendan Proctor, the U.S. chief executive of Lidl, highlights the company's selection on opening day.
2. Smaller stores that feature in-house brands
.
Lidl's first U.S. stores are about 21,000 square feet — about the size of many Trader Joe's stores, but considerably smaller than grocers like Whole Foods, Safeway and Giant. But no matter, executives say, you'll still be able to find what you need.
"A lot of the supermarkets are so large, it's a challenge for people to go shopping," Brendan Proctor, the U.S. chief executive of Lidl, told The Washington Post earlier this year. "If I wanted to go in and get a bottle of ketchup — first of all, there are probably about 24 aisles in the store. I have to find what aisle it's in. I get there, I find that there's 50 types of ketchup. Who honestly needs 50 types of ketchup? We can streamline that."
The company's stores have just six aisles, and 90 percent of its shelves are filled with its own brands.
3. More efficient displays and practices
Lidl is able to keep prices low in part by cutting waste in every step of the process, spokesman William Harwood says.
"We look at waste differently," Harwood said. "It's not just what ends up in the garbage can at the end of the day, but also about any inefficiency along the way that ends up costing the customer more."
In practice, that means having paperless offices and stores that rely heavily on natural light. Another example: You won't find onions, oranges or other produce stacked in intricate (and sometimes precarious) pyramid formations. That mainstream practice is inefficient, Harwood says. It can keep prime produce buried, affect the freshness of fruits and vegetables and require employees to spend a lot of time positioning products just-so. Instead, Lidl's produce is often displayed in the same cardboard boxes they were shipped in. The boxes are stacked so the freshest items are on top. Once those sell out, employees can easily rearrange remaining boxes as necessary.
4. A chance to buy to pick up men's leather shoes for $34.99 and an inflatable kayak for $59.99
In addition to meat, fruits and vegetables, Lidl also offers a rotation of "in and out specials" that are released every Monday and Thursday. But you have to act fast.
"As soon as they're gone, they're gone," Harwood said of the "Lidl surprises" section, which currently includes $8.99 leather wallets, $11.99 chest waders (a similar pair is $14.88 at Walmart.com) and $19.99 charcoal grills.
5. (Cheap) Award-winning wines
It's no secret that millennials love wine — one study estimates they drank 42 percent of the country's supply in 2015 — and Lidl is hoping to lure them in with its line-up of cheap, award-winning varieties. The company plans to stock 120 varieties, starting at $2.89 a bottle, in its U.S. stores.
Wine director Adam Lapierre, one of 356 certified Masters of Wine worldwide, estimates he tasted more than 10,000 bottles of wines to come up with Lidl's line-up, which includes an $8.99 bottle of prosecco that was recently named Sparkling Wine of the Year at the 2017 Indy Independent Wine Competition.