National French Fry Day 7/13/17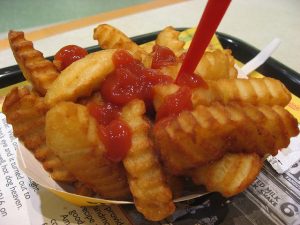 * National French Fry Day 7/13/17.
Today is National French Fry Day…I know, big deal!
If you check, today all over America- fast food burger joints are running all kinds of french-fry promotions…I know, big deal!
Anyway, BurgerFi (burgerfi.com) one of America's fastest growing fast-food burger chains and coincidentally one of Jeff Eats' favorite fast food burger chains-is running this promotion…I know big deal!

Long story short, Happy- National French Fry Day to everyone…and for you guys who have never been to a BurgerFi- put this burger chain on your to-try-list! You can check burgerfi.com for locations/ info.
By the way, Jeff Eats is counting on some of you guys coming up with- French Fry promotions at other Florida restaurants.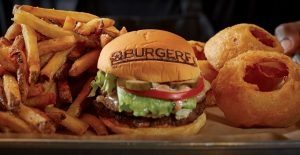 Posted on April 6th, 2011
***** BurgerFi, 4343 North Ocean Drive, Lauderdale by the Sea 33308, (954) 489-0110.
Walked into this free-standing "fast food" burger joint last Saturday night—and immediately new that I was going to love it. The easiest way to describe BurgerFi–Shake Shack (see 8/1/10 review) meets Five Guys Famous Burgers (see 11/2/06 review) with indoor and outdoor "picnic table seating."
Let me make this real simple…one of the best fast-food cheeseburgers and hand cut fries that I've had in a very long time.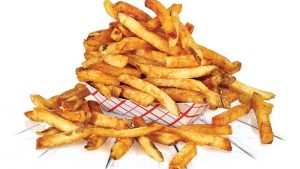 At this stage of the proceedings, check www.burgerfi.com for menu/prices/photos.
I am telling you, if burgers and fries are your game, you are absolutely gonna love this joint.
As a 1949 "baby" I think I know a thing or two about the fast-food-burger industry. Trust me on this, old Jeff Eats has eaten his fair share of burgers and fries.
I think I know exactly what BurgerFi is "trying" to do here…The joint's decor looks like a roadside fast-food burger joint circa 1950's/1960's with some-modern touches…throw in "gourmet" burgers and "upscale" fries-other stuff…and BurgerFi's got all of the bases covered. It's cooler looking than Five Guys but cheaper than the "upscale" full service-burger restaurants that are currently America's latest craze.
Check Burgerfi's site, there are a handful of pictures which will give you some idea as to what I am yapping about here.
Like I said before, if you like burgers, fries, hot dogs, custard…you'll love this joint.
BurgerFi is open 7 days a week 11am-1am.