Ghaleb (Pavilion Grille- Boca Raton)
* Ghaleb.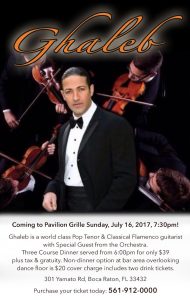 Long story short, this guy Ghaleb is some singer- and the Pavilion Grille is the perfect venue to watch him work his amazing musical talents!
For you guys who don't "know" Ghaleb, check him out at ghaleb.net.
You can catch tickets/reservations/more info at paviliongrille.com or at (561) 912-0000.
Trust Jeff Eats on this one, Ghaleb is a real showman- the Pavilion Grille is a gorgeous looking restaurant/bar/catering facility located in the atrium of an office building on Yamato Road in Boca Raton. Jeff Eats and Mrs. Jeff Eats have attended a number of "events" at the Pavilion and the joint's American-Style menu definitely got the job done!
This is going to be a real nice evening!