Joey Dale's Birthday Party (Pavilion Grille- Boca Raton)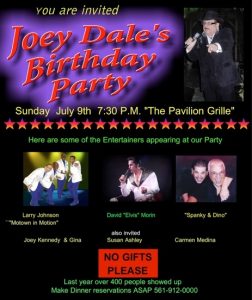 * Joey Dale's Birthday Party.
Real simple story here…
For years- Joey Dale the frontman of Joey Dale & The Gigolos- one of South Florida's premier Doo Wop/50s-70s bands throws himself a birthday party. In addition to you- the General Public, Joey invites a ton of local & national music talent to attend!
Jeff Eats and Mrs. Jeff Eats have been to a handful of these "birthday parties" and they were simply amazing! Non stop music performances by a who's who of South Florida's best musicians and legendary performers like Larry Chance of The Earls and Chubby Tavares.
This year Joey's birthday party is at the Pavilion Grille, 301 Yamato Road, Boca Raton, Florida 33431, (561) 912-0000.
The "tariff"- $10 at the door (which buys you 1-drink, or it can be applied against a $20 food purchase from the Pavilion Grille's -American Style menu). You can "either" sit at the bar, or at a reserved table!
Last year, Joey Dale's Birthday Party (at the Pavilion) drew well over 400 people. Trust Jeff Eats when I tell you that- if you're into Doo Wop/Motown/Disco/50s-70s Rock n Roll music you will have an absolute blast! The entertainment is non-stop and the Pavilion Grille's- American Style food is delicious and very reasonably priced.
If you wanna go, call the Pavillion Grille- (561) 912-0000 for reservations.
For Pavilion Grille menu/info – paviliongrille.com.