Win A $25 Smashburger Gift Card (Boynton Beach, Clearwater, Destin, Neptune Beach, Orlando, Pembroke Pines, Sarasota, Tallahassee)
This contest started on 7/3/17. This contest has a winner.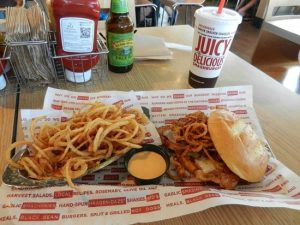 * Win A $25 Smashburger Gift Card.
Jeff Eats got a $25 Smashburger Gift Card to give to one of you guys…
The game- the first 25 "reader-comments" received – will be entered in a "blind hat pick"! You can submit as many comments as you'd like but- Please, only 1- reader comment – per day…play fair!
Just between you guys and Jeff Eats, the bet here is that most of you guys have never eaten in a Smashburger even though the fast food burger-chain currently has 342 joints (10 of which are in Florida) in 38 states!
Trust Jeff Eats, Smashburgers' burgers, fries and other stuff are off the chart delicious!
The $25 Gift Card is good at any Smashburger location. You can check Smashburger.com for locations/menu/info.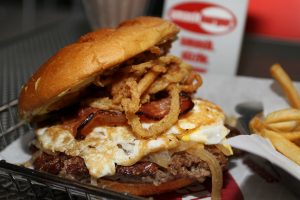 Posted on September 14, 2011
***** Smashburger *****
Smashburger is a "national" fast-food hamburger chain.
For right now, you CAN'T eat in a Smashburger in South Florida, because-they haven't yet opened a single store in this region. That said, if you check the company's website- www.smashburger.com you will find that 3-South Florida stores are set to open real soon…1 in Coral Springs, 1 in Kendall and 1 in Miami.
During the past 2 months, I ate in Smashburgers in Phoenix and Dallas…absolutely delicious burgers, fries, hot dogs. As a point of reference, don't think plebian joints like McDonald's, Burger King or Wendy's… but rather, the upscale players like 5 Guy's, CG Burgers, Shake Shack, BurgerFi and you'll "know" what market Smashburger is playing in.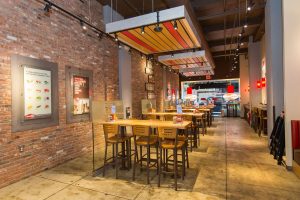 I really enjoyed Smashburger. The joint's prices are in the same-ballpark as 5 Guys (and the others mentioned)…Smashburger's menu has the requisite burgers and fries—you'll also find a handful of salads and shakes.
If really good fast food burgers and fries float your boat- keep an eye out for Smashburger.