Peter J. Fogel (Boca Black Box- Boca Raton)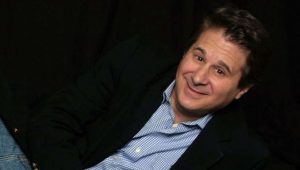 * Peter J. Fogel.
Jeff Eats just checked the Boca Black Box- box office (bocablackbox.com) and goldstar.com (discount tickets) and both have some really good tickets left for – Comedian Peter J. Fogel's for tomorrow night's (Thursday-July 6th) show at the Boca Black Box. Trust Jeff Eats when I tell you, Fogel is an absolutely brilliant "clean" comedian whose standup act is non-stop hilarious!
Don't miss him!
_______
Posted on June 9th, 2017
* Peter J. Fogel.
Real simple tale to tell you guys- over the past 7 years Jeff Eats and Mrs. Jeff Eats have seen Delray Beach resident- national touring headlining "clean" comedian Peter J. Fogel's stand-up act something like 12 times and each and every time he absolutely killed!
Just announced, Peter J. Fogel at the Boca Black Box on Thursday, July 6, 2017 at 8pm.
Trust Jeff Eats on this one, you want to see Peter J. Fogel's show!
The Skinny:
Peter J. Fogel
Thursday, 7/6/17 (8pm)
Boca Black Box
8221 Glades Road, Boca Raton, Florida 33434
Box Office:(561)483-9036
Tickets: bocablackbox.com also- check goldstar.com (discount tickets)
from goldstar.com
While Peter J. Fogel might be "America's funniest comedian you've never heard of," you have seen him. Maybe it was opening Robert Klein's HBO special, or headlining Caroline's in NYC or (back in the wild '80s) appearing as the "Ring Around the Collar Man" in the beloved Wisk detergent commercials … but, chances are, you have caught sight of this multi-talented comic and current star of the national tour of My Mother's Italian, My Father's Jewish & I'm in Therapy. Now you can see him up close (and in glorious form) when he brings his characters, voices and hilarious observations to Boca Black Box for a night of stand-up comedy.