DISH OF THE WEEK (Sunday- 7/2/17- Sande's Restaurant- Delray Beach)
*****. DISH OF THE WEEK (Sunday- 7/2/17- Sande's Restaurant).
One of Jeff Eats' favorite menu items…
WESTERN OMELETTE
$7.95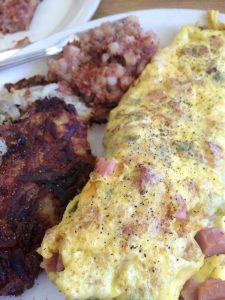 Sande's Restaurant
1717 North federal Highway
Delray Beach
(561) 272-9104
Latest Review: 6/16/16
If you're into the "mom & pop" diner concept, you're gonna absolutely love Sande's Restaurant. Breakfast/lunch, delicious food, reasonable prices, big portions, super pleasant service, table/booth/counter seating.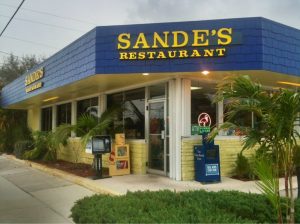 Posted on June 16th, 2016
***** Sande's Restaurant, 1717 North Federal Highway, Delray Beach 333483, (561) 272-9104.
Not exactly sure as to how long Sande's- a "mom & pop" cash only- counter/table/booth seating diner has been around- all I can tell you- is that Jeff Eats and Mrs. Jeff Eats have been eating there for something like 17 years.
Simple tale to tell you guys, Sande's is open 365 days a year 6am-2:45pm and serves up delicious, reasonably priced – breakfast stuff, salads, sandwiches, burgers, entrees, desserts. If you didn't catch it before, the joint is a cash only-situation!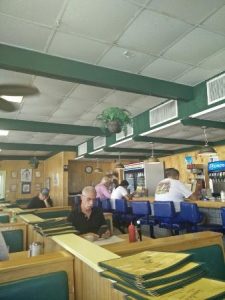 Long story short, a recent e-mail from long time Jeff Eats' reader Jon G- prompted a Jeff Eats and Mrs. Jeff Eats' lunch-yesterday- and "alerted" me to the fact that Jeff Eats had never mentioned this terrific "mom & pop" diner to you guys- so if you go and like Sande's you can thank Jeff Eats and- if you go and don't like Sande's- blame Jon G!
By the way, here's Jon G's e-mail…
From: Jon G
Subject: Sande's Restaurant
Jeff, ever get a chance to try Sande's in Delray on US1. Real good mom and pop diner. The frosted flake French Toast is delicious. You'll like it!
Finally, for you guys who made it "all" the way down here- that Frosted Flakes French Toast that reader- Jon G raved about- is absolute dynamite- I've had it a good handful of times!