Fred Rubino (Boca Black Box- Boca Raton)
This article first appeared on 3/29/17. Just wanted to let you guys know that both bocablackbox.com and goldstar.com have a handful of really good tickets left for both Rubino shows – 6/30 & 7/1! Trust Jeff Eats when I tell you- that you don't want to miss this guy! He puts on a great show!
* Fred Rubino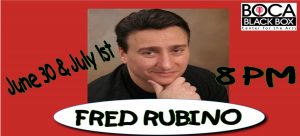 Posted on March 29th, 2017
* Fred Rubino.
Last year, Jeff Eats and Mrs. Jeff Eats saw national touring headliner comedian Fred Rubino as a member of The Three Tenors Who Can't Sing Comedy Tour and I gotta tell you guys, Rubino killed! Trust Jeff Eats when I tell you- that the "light blue" Rubino is off-the chart funny!
The Boca Black Box and Rubino just announced 2-dates, Friday, 6/30/17 (8pm) and Saturday, 7/1/17 (8pm) and I'll bet you guys that both shows are SRO!
Jeff Eats just picked-up 2 tickets on goldstar.com for the Saturday Night show!
Jeff Eats is telling you, you don't want to miss Fred Rubino!
The Skinny:
Fred Rubino
Friday, 6/30/17 (8pm) and Saturday, 7/1/17 (8pm)
Boca Black Box
8221 Glades Road Suite #10,
Boca Raton, Florida 33434
Box Office: 483.9036
Tickets: bocablackbox.com – check goldstar.com for discount tickets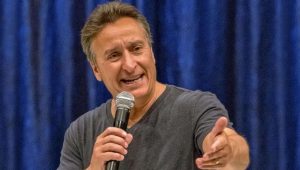 from bocablackbox.com
Fred Rubino was born on the lower east side of Manhattan in New York City and then moved to Brooklyn. It is here where Fred developed, at an early age, the basis for his comedy material and the humor and hilarity of growing up Italian and in Brooklyn! In 2005 Fred became a published author with the release of his conspiracy driven book Nazi Princess: The Final Deception which actually isn't funny at all!!! Three years later, Fred turned his interest to writing and performing stand up comedy. Opening up for comics such as Nick Dipaolo and Vic Dibitetto, Fred quickly became the featured comic everyone wanted to use! He has also appeared on Radio Opie and Anthony's top ten funniest listeners radio show, recently had his performance broadcast live on the internet via Action Audio and has made many appearances on local cable talk shows where he has performed his hilarious standup. Fred has now successfully transitioned from Featured Comic to Star and Headlining Comedian.