DISH OF THE WEEK (Sunday- 6/25/17- Tippi's Pizza- West Palm Beach)
***** DISH OF THE WEEK (Sunday- 6/25/17- Tippi's Pizza)
One of Jeff Eats' favorite menu items…
SICILIAN PEPPERONI PIZZA
$15.45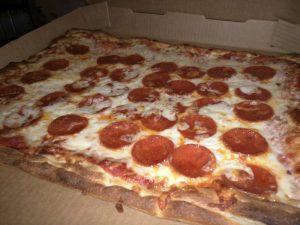 Tippi's Pizza
5778 Okeechobee Road
West Palm Beach
(561) 681-9224
Latest Review: 3/29/15
If you're looking for a joint to hold your college class reunion at, Tippi's Pizza ain't gonna work for you…maybe its got 2-3 tables…that said, definitely one of the best "Sicilian" pies down here in sunny South Florida.
Trust Jeff Eats when I tell you- Tippi's Pizza makes awesome pizzas and dynamite subs. By the way, the joint's New York Style Pepperoni Pizza is also a huge winner.
This joint is an absolute must try!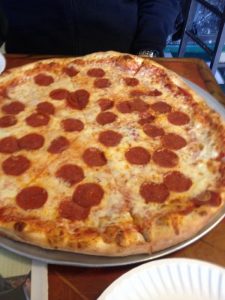 Posted June 19, 2012
***** Tippi's Pizza, 5778 Okeechobee Boulevard, West Palm Beach, Florida 33417, (561) 681-9224.
Got a real "hole in the wall" pizza joint for you…Tippi's Pizza in West Palm Beach. Think takeout here- as the joint maybe has 2-3 tables.
Tippi's Pizza's menu has a nice selection of appetizers, salads, hot/cold subs, pastas, calzones, pizzas, meat/chicken/seafood entrees.
A few days ago I took some stuff out from Tippi's…large plain pizza, meatball parmigiana sub, veal parmigiana sub, sausage & peppers sub, —every item was right on the money. Now I don't want to "intrude" on my pals over at www.worstpizza.com domain–but I think, that Tippi's pizza could successfully be sold at any NYC pizza joint. The slice, crisp-thin crust/sweet sauce/delicious cheese and when folded and pointed down- had the requisite oil drip. The $7 subs were also "perfect"—nice hard- crusty sub roll and the messy fillings were exactly what I like when I'm in front of the tv with a 2-liter bottle of Coke to wash things down.
Let me close this story out this way…if Tippi's was in my neighborhood, I'd be a very good customer.
Tippi's Pizza is open Monday-Thursday 11am-11pm, Friday-Saturday 11am-midnight, Sunday 11am-10pm