The Florida Poptarts (Arts Garage- Delray Beach, Blue Jean Blues- Fort Lauderdale)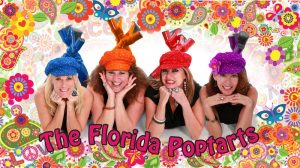 * The Florida Poptarts.
Jeff Eats and Mrs. Jeff Eats are huge fans of the legendary "60's-girl groups"…like The Chantels, The Dixie Cups, The Ronettes, The Marvelettes, The Crystals, The Chiffons, The Shangri-Las and The Shirelles
Long story short, we recently heard about a relatively new South Florida based "girl" group-The Florida Poptarts who for the past 7 months have been blowing audiences away with dead-on 60's covers!
Jeff Eats and Mrs. Jeff Eats got plans to check the group out…
The Florida Poptarts are currently scheduled to play:
Arts Garage
94 Northeast 2nd Avenue
Delray Beach, Florida 33444
Scheduled Show: 7/23/17- (Tickets: $15, $20, $25)
Info: 561.450.6357 – artsgarage.org
Blue Jean Blues
3320 Northeast 33rd Street
Fort Lauderdalee, Florida 33308
Scheduled Shows: 8/11/17, 9/15/17, 10/6/17, 11/3/17, 12/8/17- (Cover Charge: $5)
Info: 954.306-6330 – bjblive.com
Like I said 4 seconds ago, Jeff Eats and Mrs. Jeff Eats got plans to check The Florida Poptarts out (we picked-up 2 tickets online for the Arts Garage 7/23/17 show)…
Based on The Florida Poptarts' videos (floridapoptarts.com and You Tube)- Jeff Eats is kinda thinking that you doo wop/60's Rock n Roll fans should definitely plan on seeing these ladies in action!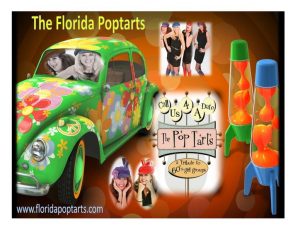 from floridapoptarts.com
The Florida Poptarts
South Florida's Newest 60's Sensation
Classic Rock 'N Roll and R&B
Watch Video- floridapoptarts.com
Get ready to twist, jerk, swim and head back to the 1960's! Ultra-cool and loads of fun, the Poptarts are 4 groovy chicks who sing the most popular hits from the 60's girl groups while dressed in matching 60's outfits. Their crowd-pleasing favorites sound just like those old records you know and love! Their retro look and sound are addictive and sure to delight audiences of all ages! Each Poptart has a flavored name so get ready for Outrageous Orange, Bluezy Blueberry, Charming Cherry and Passionate Plum.