Shuli Egar (Boca Black Box- Boca Raton)
* Shuli Egar.
Just announced- national touring headlining "blue" comedian- Shuli Egar-is set to play the Boca Black Box in Boca Raton on Friday Night, June 23, 2017 at 10pm.
Jeff Eats and Mrs. Eats have seen Shuli-in action and he is hilarious!
If you can handle an absolutely brilliant "blue" comedian- you will love Shuli Egar!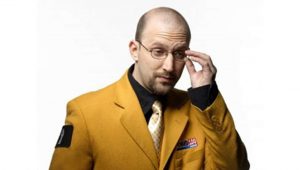 The Skinny:
Shuli Egar
Friday Night, 6/23/17 (10pm)
Boca Black Box
8221 Glades Road, Boca Raton, Florida 33434
Box Office:(561)483-9036
Tickets: bocablackbox.com also- check goldstar.com (discount tickets)
from shalomshuli.com
ABOUT SHULI EGAR
SHULI EGAR truly knows that if you're going to make it in comedy, you've got to hustle. His start in stand up began with him bombing every night in nearly empty casinos along the Las Vegas Strip. But in 2002 Shuli's luck would change. That's when he met the one and only Howard Stern.
SHULI's love for The Howard Stern Show started in middle school. He moved to Las Vegas from Los Angeles to start his stand-up career and was a frequent caller to the Stern Show. After seven years of weekly calls, he was invited to play a round of blackjack with Stern and his gang while the show was in Las Vegas. As it happened, he won more than just money gambling at the table that day. Despite having no journalism experience, Shuli was brought on as a correspondent for the Howard 100 News team and has been reporting on all things Howard ever since.
In addition to his work on the Stern Show, Shuli co-hosts The Jay Thomas Show, the Dr. Harry Fisch Show on Sirius XM, and he has contributed to the Scott Ferrall Show and Miserable Men.
SHULI has toured the country as part of "The Killers of Comedy " and "Ronnie's Block Party", and he regularly performs stand-up in clubs all across the U.S.