Seinfeld Trivia With Comic Sheba Mason (Empire Stage- Fort Lauderdale)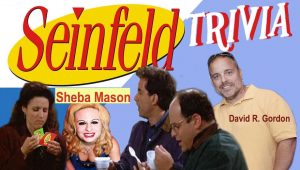 * Seinfeld Trivia With Comic Sheba Mason.
Long story short, Jeff Eats just picked-up 2- $20 tickets on goldstar.com for $12.50 a piece!
The truth be told, Jeff Eats wasn't a fan of the Seinfeld tv show- but Mrs. Jeff Eats was!
As the old Japanese saying goes- You gotta pick your battles wisely!
The Skinny:
Seinfeld Trivia With Comic Sheba Mason
Monday, June 26, 2017 ((8pm)
Empire Stage
1140 North Flagler Drive
Fort Lauderdale, Florida 33304
Box Office: 954-678-1496 empirestage.com
Discount Tickets: goldstar.com
from goldstar.com
The Emmy-winning hit sitcom Seinfeld, also known as "the show about nothing," ruled the zeitgeist in the '90s with its memorable bits and catch-phrases, and even launched the holiday Festivus, which is still celebrated today. Join stand-up comics Sheba Mason (daughter of Jackie) and David R. Gordon at the Empire Stage in Lauderdale for a trivia contest, complete with included wine and prizes, that'll test your grasp of such topics as "double dipping," "regifting," "man hands," "puffy shirts," "shrinkage" and "sparing squares" and such characters as Newman, Art Vandelay, Uncle Leo, Puddy and the Soup Nazi — not that there's anything wrong with that.