Esther Ku (Boca Black Box- Boca Raton)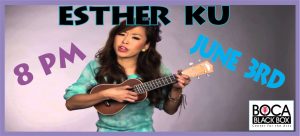 * Esther Ku.
Right up front, comedian Esther Ku isn't for everyone!
That said, if you can handle seeing one of America's funniest, raunchiest (and I do mean raunchy), wittiest comedians currently working the comedy club/event circuit- you go see Esther Ku! Trust Jeff Eats when I tell you, Ku is so off the chart, that she would- even have made the late great legendary comedian Annabelle Salzman (better known as Belle Barth) blush!
Like I just said, not for everyone, but I'm telling you this KU is something else!
The Skinny:
Esther Ku
Saturday, June 3, 2017 (8pm)
Boca Black Box
8221 Glades Road, Boca Raton, Florida 33434
Box Office: (561) 483-9036
Tickets: bocablackbox.com goldstar.com (discount tickets)
from bocablackbox.com
ESTHER KU is an internationally touring stand-up comedian originally from Chicago. You may know her from NBC's Last Comic Standing, MTV's Girl Code, Nick Cannon's Wild'n Out on MTV2, Comedy Central's @Midnight, The Jack & Triumph Show, or The Jim Gaffigan Show. She has been a guest on The Joe Rogan Experience, Getting Doug with High, The Opie Show with Jim Norton on Sirius XM, Jenny McCarthy's Dirty Sexy Funny Show on Sirius XM Stars, and The Playboy Morning Show. She was selected by Howard Stern as a finalist in the Hottest Funniest Chick Contest and has appeared on the Artie Lange Show on Direct TV. She began stand-up in Boston and now travels the world entertaining audiences with her bratty charm and infamous maniacal laugh. You won't want to miss her at the Boca Black Box this Saturday!