Trader Joe's Sublime Ice Cream Sandwiches (Trader Joe's-Boca Raton)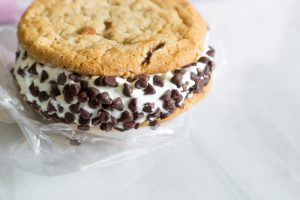 ***** Trader Joe's Sublime Ice Cream Sandwiches.
Last night Jeff Eats came across "these" ice cream sandwiches while shopping at the Trader Joe's, 855 South Federal Highway, Boca Raton, Florida 33432, (561) 338-5031 and I gotta tell you-they were/are absolutely-off-the-chart-delicious!
The package of 4 ice cream sandwiches ran $3.99. For the math challenged, that's like a buck a piece!
Trust Jeff Eats on this one, this Trader Joe's joint got a big winner with these ice cream sandwiches!
You can check traderjoes.com for locations/info.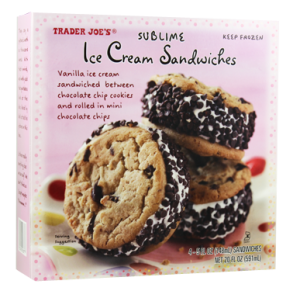 from traderjoes.com
Trader Joe's Sublime Ice Cream Sandwiches came to fruition after months and months of tasting and re-tasting by our panel. (Yes, it's a messy job, but we're pretty sure we're up to the task.) When the chocolate chip cookies finally reached the proper crunchy-chewy ratio, we moved on to the ice cream. After a few go-rounds, we landed on the ideal combination of cookie and ice cream. Then, of course, we had to make them even better. So we rolled the sides in mini, semi-sweet chocolate chips. End result? These Ice Cream Sandwiches have truly earned their Sublime moniker. And they're sublimely priced at a mere $3.99 for a package of four (20 ounces). You'll find them – where else? – in our freezers.