Jenny Zigrino (Boca Black Box- Boca Raton)
Just a heads-up, the Boca Black Box just announced a BOGO ticket deal. When checking out at bocablackbox.com use code: BOGO and you'll get 1 "free" ticket per paid ticket.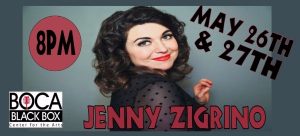 Posted April 22, 2017
* Jenny Zigrino.
Got a real good comedian for you guys to go see, Jenny Zigrino- who just announced 2 shows at the Boca Black Box in Boca Raton on Friday- May 26th (8pm) and Saturday- May 27th (8pm)!
Just between you guys and Jeff Eats, Zigrino is an absolutely brilliant comedian who will have you cracking-up all night! Trust Jeff Eats when I tell you, in a few short years, you'll be telling (that is if-you go and see her) all your friends that you saw Jenny Zigrino at the Boca Black Box before she become a major tv personality and concert performer!
The Skinny:
Jenny Zigrino
Friday, 5/26 (8pm) & Saturday, 5/27 (8pm)
Boca Black Box
8221 Glades Road Suite #10,
Boca Raton, Florida 33434
Box Office: 483.9036
Tickets: bocablackbox.com – check goldstar.com for discount tickets
from bocablackbox.com
With the sweetness of the Midwest and the iron balls of the East Coast, Jenny Zigrino is a comedian that packs a punch of truly original humor. She's charmed audiences across the country with her wit, keen observations, embarrassing anecdotes, and brilliant honesty for a compelling performance you can't ignore.
She made her late night debut on Conan O'Brien and was a recent guest on the hit shows @Midnight and Adam DeVine's House Party Season 3 on Comedy Central. She's been featured on TBS, Oxygen, TruTV, MTV Fox, and IFC.
A rising star in Hollywood, her first film appearance was a leading role in the film 50 Shades of Black with Marlon Wayans. She also stars in the film Bad Santa 2 with Billy Bob Thornton, the sequel to the 2003 hit film Bad Santa. She exploded onto the Just For Laugh's New Faces Showcase for 2016 and has been featured in many festivals across the country. She is an alumni of The New York Comedy Festival, Women in Comedy Festival, Bridgetown Comedy Festival, Moontower Comedy Festival, and many more.
She recently released an IFC Web series with her friend and comedian Jen Saunderson "The Filling is Mutual" available on IFC Digital.
Jenny is filming her first comedy special for Comedy Central in April of 2017.
In conclusion, she's kind of a bad ass bitch.