Magician-Comedian Bruce Gold (Boca Black Box- Boca Raton)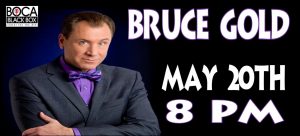 ***** Magician-Comedian Bruce Gold.
Jeff Eats and Mrs. Jeff Eats just picked-up 2 tickets to see Magician-Comedian Bruce Gold at the Boca Black Box in Boca Raton, tomorrow night, Saturday- May 20th at 8pm!
If you want to spend an evening with one of America's most gifted and talented "clean" working Magician-Comedians…
The Skinny:
Magician-Comedian Bruce Gold
Friday, May 20, 2017 (8pm)
Boca Black Box
8221 Glades Road, Boca Raton, Florida 33434
Box Office: (561) 483-9036
Tickets: bocablackbox.com (use code: SUBSCRIBER at checkout for 15% discount) goldstar.com (discount tickets)
from bocablackbox.com
Direct from the famous Magic Castle in Hollywood California, renowned Magician and Comedian, Bruce Gold, brings his unique brand of Humor and Hocus-pocus to Boca Black Box Theater for a show that will make you roar with laughter and gasp in astonishment!
Variety Magazine called Bruce Gold, "A funny man of considerable charm" and Seinfeld actor, Jason Alexander, said, "Bruce has a truly funny act with great writing, brilliant magic and an authentic connection with his audience." You may have seen Bruce recently on the hit TV show, Fool Us, with Penn & Teller. He's also appeared on TV shows including, Master's of Illusion, An Evening at the Improv, the sitcom Full House and he's even been a guest on Oprah. If you happened to catch Bruce playing the part of a magician in his award winning, "got milk?" TV commercial a few years back, chances are he's had you laughing already.
Bruce has performed in comedy clubs from coast to cost, on the world's top cruise lines and in Las Vegas. When he was just 12 years-old he discovered he was a distant relative of Harry Houdini and imagined he too could become a famous magician, but when his first daring escape proved more amusing than amazing, Bruce realized making people laugh was a much better trick. He says, "As a comedy magician, unlike an escape artist, if a joke dies, I don't.
Come see this specaular performace on the evening of May 20th, 2017 with us at the Boca Black Box!