The Pompano Beach Amp and AEG Live Present Sammy Hagar and The Circle featuring Michael Anthony, Jason Bonham and Vic Johnson, Touring with Collective Soul (Pompano Beach Amphitheater- Pompano Beach)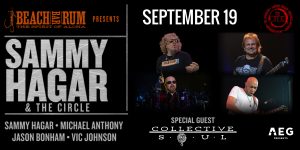 * The Pompano Beach Amp and AEG Live Present Sammy Hagar and The Circle featuring Michael Anthony, Jason Bonham and Vic Johnson, Touring with Collective Soul.
Here's a heads-up for you guys!
Just Announced!
from theamppompano.org
Special Presale Offer*
Wednesday, May 10 at 11am to Thursday, May 11 at 10pm
Use Code: circle
before the public on sale
Friday, 5/12 at 10am
*Presale offer available online only, for alimited time, while supplies last
Concert Date: Tuesday 09/17/2017 at 7:00 pm
Tickets: $49-$129.50, Ticketmaster.com
For more information, www.theamppompano.org or call 954-519-5500
The Pompano Beach Amp and AEG Live are proud to present Sammy Hagar, one of rock music's most dynamic frontmen and acclaimed songwriters, in concert with his new band The Circle and touring with Collective Soul.
As a multiplatinum-selling solo artist and frontman for iconic bands including Montrose and Van Halen, with whom he was inducted into the Rock & Roll Hall of Fame, Haggar has sold more than 50 million albums and influenced the sound of rock music for more than four decades. His newest supergroup The Circle, features Michael Anthony, the renowned bassist who's played with him for the past 30 years in bands including Van Halen and Chickenfoot; Jason Bonham, the acclaimed drummer and son of Led Zeppelin's iconic drummer, John Bonham; and Vic Johnson, Hagar's longtime guitar virtuoso who seamlessly shreds through his own, as well as some of rock's most iconic guitarist's riffs.
Formed in 2014, The Circle has thrilled audiences and critics alike with their live concerts, with USA Today remarking, "from the first thunderous notes … it's apparent that this machine is firing on all cylinders." The foursome rip through a set list of 40 years of Hagar's epic rock anthems including Rock Candy, There's Only One Way To Rock, Finish What Ya Started, Right Now and I Can't Drive 55, as well as some classic Led Zeppelin jams like Whole Lotta Love, When the Levee Breaks and Moby Dick.
Remarking on the group's setlist, The Fort Worth Star-Telegram said, "The Circle is a quartet capable of drawing upon some of the most indelible rock music of the last 40 years." The band's live DVD, At Your Service" recorded during their first North American tour, debuted at No. 2 on SoundScan's chart – a testament to the strength of the band's live shows.
Collective Soul broke into mainstream popularity when they rose to international fame in 1993 with the rock anthem "Shine." The multi-platinum quintet has helped shape and define alternative rock with lots of guitars and attitude for the last two decades and has a catalog of #1 hits under their belt, including "Shine," "December," "The World I Know," "Precious Declaration," and "Heavy."
The band released their long-awaited ninth album, See What You Started By Continuing in October 2015. The album debuted at #1 on the Billboard Alternative Album chart, marking the band's highest charting position in their illustrious career. The band has been back in the studio working on their 10th album, which is set for release in early 2018.