Comedian ANT (Boca Black Box- Boca Raton)
This article first appeared on 4/14/17. Just wanted you guys to know, that Jeff Eats just picked up 2 tickets on goldstar.com for tonight's (5/5/17) show! Trust Jeff Eats on this one, this guy ANT is an absolutely brilliant comedian who'll have you laughing your ass-off! You can catch tickets at bocablackbox.com and goldstar.com (discount tickets).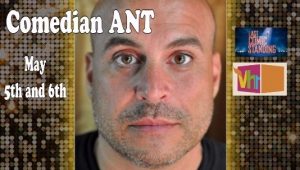 Posted on April 14th, 2017
* Comedian ANT.
The Boca Black Box in Boca Raton just announced that- national touring headliner comedian ANT is in for 2 shows- Friday, May 5th (8pm) and Saturday, May 6th (8pm) and Jeff Eats is telling you guys that ANT who works "medium blue"- is one of the edgiest, irreverent and funniest comedians currently working the comedy club/casino circuit and that you definitely don't want to miss him!
The Skinny:
Comedian ANT
Friday, 5/5/17 (8pm) & Saturday, 5/6/17 (8pm)
Boca Black Box
8221 Glades Road Suite #10,
Boca Raton, Florida 33434
Box Office: 483.9036
Tickets: bocablackbox.com – check goldstar.com for discount tickets
from goldstar.com
Wild, bouncy and irreverent, ANT is best known for appearing on NBC's Last Comic Standing, both as a hyper, hilarious talent and as a celebrity judge. He went on to spread his fame across the cable landscape, hosting VH1's Celebrity Fit Club and the LOGO series U.S. of ANT, and now he's ventured into vlogging with his web series The ANT Colony. The stand-up star's plucky wit and eye for the absurd is a sure crowd-pleaser and you can catch him at the Boca Black Box in Boca Raton.