Dom Irrera (Boca Black Box- Boca Raton)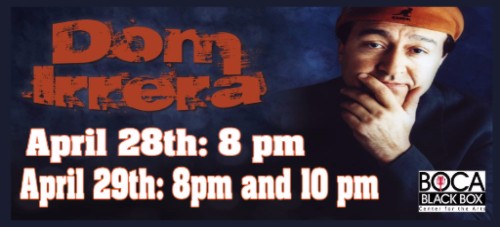 * Dom Irrera.
Jeff Eats and Mrs. Jeff Eats have been Dom Irrera fans for something like 40 years!
Irrera the "light blue" national touring headliner comedian- just announced 3-shows at the Boca Black Box in Boca Raton, Friday, 4/28 (8pm), Saturday 4/29 (8pm & 10pm).
If you haven't yet seen Dom Irrera, trust Jeff Eats when I tell you, that the guy is absolutely brilliant- and he'll have you laughing your ass-off!
The Skinny:
Dom Irrera
Friday, 4/28 (8pm) & Saturday, 4/29 (8pm & 10pm).
Boca Black Box
8221 Glades Road Suite #10,
Boca Raton, Florida 33434
Box Office: 483.9036
Tickets: bocablackbox.com – check goldstar.com for discount tickets
from bocablackbox.com
When Dom Irrera takes the stage, he does not simply get on it, he owns it!
Dom projects a singular charisma that firmly engages audiences from the opening moment and doesn't let go until the end of the performance, and beyond.
Trying to analyze what makes a comedian special is typically a fool's errand, but we'll give it a go: With Dom, it seems to be a blend of regular-guy presence and relaxed, effortless delivery-and, of course, what he's delivering is top-notch material, laced with an array of colorful characters and voices. Beyond beautifully-crafted jokes and routines, Dom's also giving the audience one-man sketches and bursts of improv. You can catch one his three shows here at the Boca Black Box this April!