God Save The Queen (Mizner Park Amphitheater- Boca Raton)
* God Dave The Queen.
The Argentina based- God Save The Queen, considered by many to be the #1 Queen tribute band in the world, got its work-visa problems (3 scheduled Florida- March, 2017 shows were canceled) worked-out!
Jeff Eats is telling you Queen fans, you don't want miss this show!
You can catch tickets at eventbrite.com. Also check goldstar.com for discount tickets!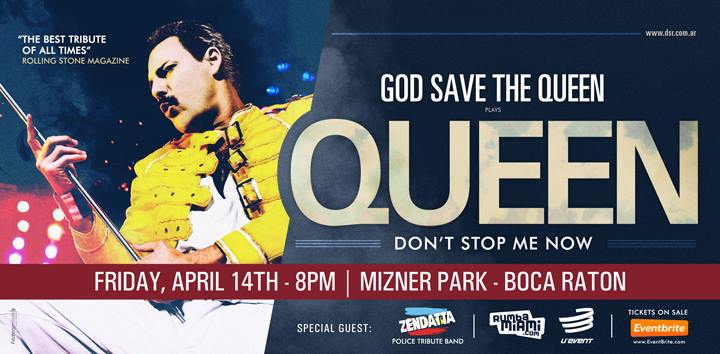 from eventbrite.com
DATE
The March 24, 2017 God Save The Queen concert at Mizner Park Amphitheater has been rescheduled to Friday, April 14, 2017. Please use your existing tickets to gain admittance on April 14, 2017.
We look forward to seeing everyone on April 14th!
********************************
For the First Time in Boca Raton!
The Longest Running and Most Acclaimed Queen Tribute Band in the World!
GOD SAVE THE QUEEN!
Special guest: ZENDATTA (Police Tribute Show)
Friday, April 14th 2017
Doors open at 7PM
Show starts at 8PM
MIZNER PARK AMPHITHEATER
590 Plaza Real
Boca Raton, FL 33432
$20 cash parking available the day of the event.
VIP Seating: VIP seating in the first three rows.
Premium Seating: Seats starting at the fourth row.
General Admission: Standing room only.
The Mizner Park Amphitheater will play host to the world's greatest Queen tribute band when God Save The Queen takes the stage on Friday, March 24th, 8PM, to bring to life all the greatest hits from QUEEN.
"The Best Tribute of All Times!" – Rolling Stone Magazine
"They are Simply Perfect!" – Journal Do Brasil
"It's a Kind of Magic!" – The Liverpool Echo
It's a mythical Queen tribute show like you've never seen before! God Save The Queen recreates more than 20 of Queen's greatest hits in one show! The band takes their name from the United Kingdom's national anthem which was played on tape at the end of every Queen show while the band took their bows. For more than eighteen years God Save The Queen has been noted for their faithful imitation of Queen in fashion and sound. They perform using the precise set list, clothing, and stage antics that Queen was known for. Vocalist Pablo Padin re-enacts Freddy Mercury so realistically that along with Francisco Calgaro (guitar), Matias Albornoz (drums) and Ezequiel Tibaldo (bass).you almost feel like you are actually witnessing a legendary Queen show. This is a performance not to be missed!