The Renditions (Temple Anshei Shalom- Delray Beach)
* The Renditions.
Jeff Eats first told you guys about these "guys" way-back on May 7, 2015!
If you're into terrific Doo Wop leads & harmonies, you'll love The Renditions!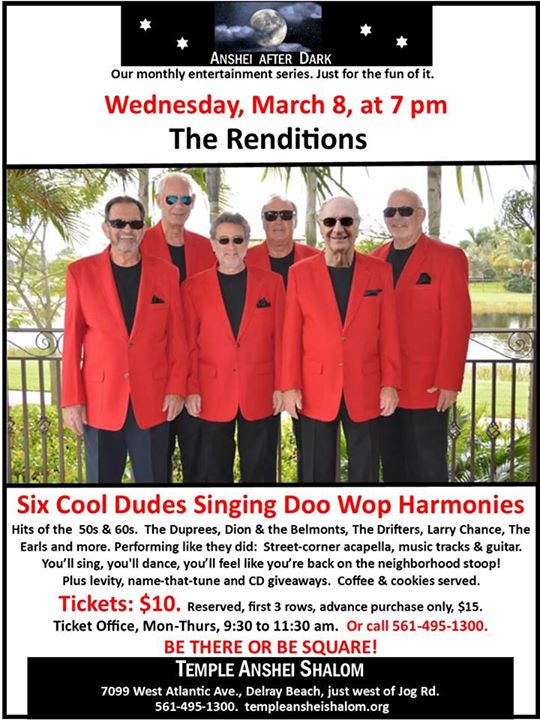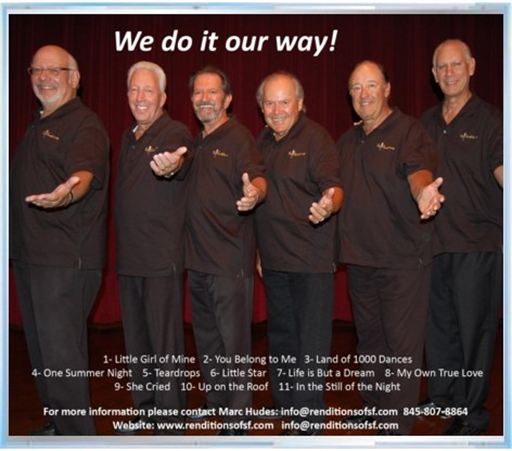 Posted on May 7th, 2015
* The Rendtions of South Florida.
Got something real-good for you guys who are into 1950s-1960s a capella…The Renditions of South Florida.
Jeff Eats recently caught this 6-man South Florida based group in action and I gotta tell you that they killed! One solid hour- of hits like, "She Cried"- "Up On The Roof- "My Own True Love"- "One Summer Night."
Just between you guys and Jeff Eats, singing a capella isn't all that easy…1, 2, 3 songs maybe 4- but after that…the human voice starts to get awfully "tired"- no fooling here, The Renditions of South Florida stayed fresh and strong for the entire show!
Jeff Eats absolutely loved the group.
Checkout the group's website renditionsofsf.com- they got a whole bunch of South Florida dates coming up.