The Three Tenors (Who Can't Sing) starring Vic DiBitetto (Coral Springs Center for the Arts- Coral Springs, Boca Black Box- Boca Raton)
This article first appeared on 2/11/17. Jeff Eats just checked the Boca Black Box Box-Office and the Coral Springs Center for the Arts Box-Office and Boca Black Box's 2/25/17 (8pm) show is sold out! There are a handful of tickets left for Boca Black Box's 2/25/17 (10pm) show and Coral Springs Center for the Arts' 2/24/17 (8pm) show! Jeff Eats is telling you, you don't want to miss The Three Tenors (Who Can't Sing) starring Vic DiBitetto…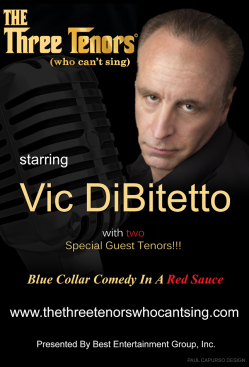 Posted February 11, 2017
* The Three Tenors (Who Can't Sing) starring Vic DiBitetto.
Real simple tale to tell, national touring headlining comedian Vic DiBitetto is one of the funniest-in demand "light blue" comedians currently working America's comedy club/casino/event circuit!
Last year- Jeff Eats and Mrs. Jeff Eats saw DiBitetto at the Boca Black Box and he and his "tenors" had a standing room only audience rolling on the floor with laughter!
Trust Jeff Eats on this one, you don't want to miss this show!
DiBitetto is scheduled to appear at the Coral Springs Center for the Arts on Friday, 2/24/17 (8pm) and the Boca Black Box on Saturday, 2/25/17- for 2 shows (8pm) & (10pm)!
The Skinny:
The Three Tenors (Who Can't Sing) starring Vic DiBitetto
Friday Night, 2/24/17 (8pm)
Coral Springs Center for the Arts
2855 Coral Springs Dr.
Coral Springs, FL 33065
954-344-5990
Tickets: coralspringscenterforthearts.com goldstar.com (discount tickets)
&
Saturday Night (8pm) & Saturday Night (10pm)
Boca Black Box
8221 Glades Road
Boca Raton, FL 33434
Box Office: 561-483-9036
Tickets: bocablackbox.com goldstar.com (discount tickets)
from bocablackbox.com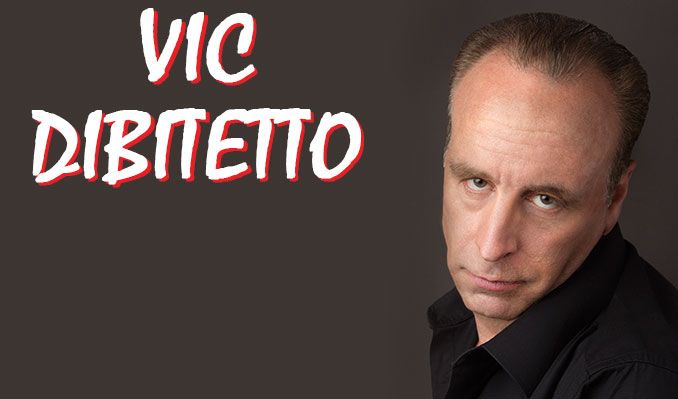 The Three Tenors (who can't sing) is a night of stand-up (and a sit down) with three made men of comedy. Having just finished a 27 city national tour in April of 2016, The Three Tenors is happy to be back the Box!
The Three Tenors (who can't sing) stars Vic DiBitetto, now considered the Godfather of Comedy. DiBitetto has taken the internet by storm with over one hundred million views, multiple viral videos and his own television talk show. Vic has been touring the country selling out clubs and theaters along the way with his murderous brand of comedy that kills audiences.
Joining DiBitetto will be a rotating roster of hilarious headliners and special guests along the way!! Vic and his other Tenors will bring their incredible stand up and sit down comedy to the Box this February! It's blue collar comedy in a red sauce!!
More about Vic DiBitetto… 'The Italian Hurricane'
An incredibly powerful performer, comedian Vic DiBitetto churns energy, honesty and humanity into nonstop laughter. His pace is frenetic. His material vivid and true. He's been called a cross between Rodney Dangerfield and Ralph Kramden. The bottom line is, DiBitetto leaves his audiences breathless with laughter.
Referred to by most other comics as a "killer", it means you just can't follow Vic onstage. And that has been uttered by many very famous stand-ups over the years.
Vic is currently:
Featured in Kevin James' new movie Mall Cop: Blart 2 coming out in April 2015
Starring in Don't Know Jack, a prime time Hulu Original scripted sit-com slated for Fall 2014
Writing and Producing his Ticked Off Vic segment for 95.5 WPLJ FM in New York City (reaches 3 million people) AND NJ101.5 FM in New Jersey (#1 radio station in NJ)
An Internet Sensation with over 22 million YouTube views and his now famous Bread and Milk and Justin Bieber viral rants
Featured, with other celebrities, in a video roll-in segment in the play Italian Bred coming to Broadway (Fall 2014)
Named the Grand Marshal for the NYPD Columbia Association in the 2014 Columbus Day Parade in NYC and will walk at the front with Mayor de Blasio and Police Commissioner Bratton.
One of the hottest Stand Up Comedians in the country
Vic has appeared on television's America's Funniest People (ABC) where he was a $10,000 Grand Prize winner as well as Stand-Up Spotlight (VH1) and Last Laugh at Pips and acted in a pilot with Woody Allen and Danny Aiello. In addition, he has warmed-up hundreds of audiences for hit shows such as Who Wants To Be A Millionaire and The Ricki Lake Show. Vic has performed at many of the nation's best comedy venues such as New York City's Dangerfield's, Los Angeles' Laugh Factory, Las Vegas' Riviera Hotel, Resorts World Casino and Atlantic City's Borgata Hotel. His schedule is relentless and he is booked thru 2015 at every comedy venue imaginable in the New York Tri-State area. A Pay Per View special and major US Tour are in current discussions.