Carmine Appice (Markee Music- Deerfield Beach)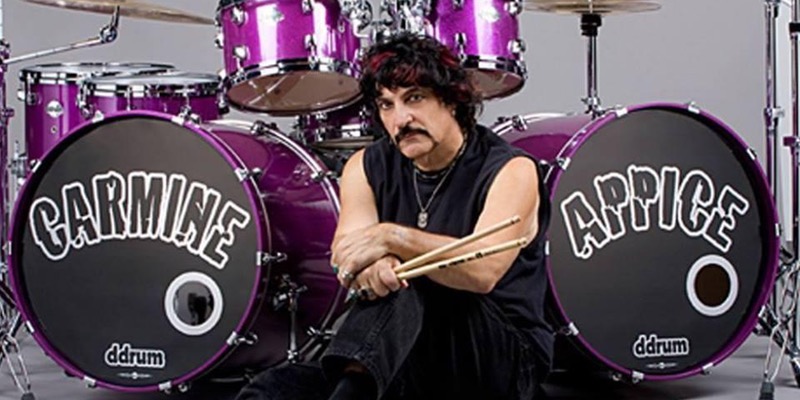 * Carmine Appice.
If Jeff Eats played the drums, this is something that I would definitely do! But I don't, but just maybe you do!
DESCRIPTION:
Carmine Appice Rock Legend Drummer of Vanilla Fudge, Ozzy, Rod Stewart, Ted Nugent , Pat Travers and Cactus to name a few will be conducting a Master Class at Markee Studios in Deerfield Beach.
Learn Linear Grooves, Paradildle Poly Rhythms, Time Signatures and More!
Free giveways and additional surprises to go along with a memorable evening and once in a lifetime chance!!
Space is Limited.
DATE AND TIME
Wed, March 8, 2017
6:30 PM – 9:30 PM EST
LOCATION
Markee Music
1700 South Powerline Road
Deerfield Beach, FL 33442
TICKETS/INFO: $30 eventbrite.com
For the interested, Rolling Stone Magazine ranks Appice #28-"!00 Greatest Drummers Of All Time"…
28. Carmine Appice
A valuable team player as well as a bruising power hitter with an instantly identifiable style, Carmine Appice literally wrote the book on rock drumming: His 1972 text The Realistic Rock Drum Method has been a staple since its release. Appice made his name in the late Sixties with eccentric psych outfit Vanilla Fudge – influencing a young John Bonham with his romping, aggressively funky grooves – before moving on to a heavier blues-rock style with Cactus and Beck, Bogert & Appice. He demonstrated his range in the late-Seventies Rod Stewart band, contributing sassy backbeats and key songwriting assistance on hits such as "Da Ya Think I'm Sexy." (Stewart reportedly called Appice "The Dentist" for employing what he termed "too many fill-ins.") More recently, he's kept busy playing "Drum Wars" shows with younger brother and fellow elite hard-rock beatsmith Vinny (Dio, Black Sabbath). According to Appice, some of his key innovations came from the constraints of playing live rock music during his formative years: "All the stuff we all did – the stuff that I am [credited with] starting was just stuff that I did out of necessity," Appice told Drum Magazine in 2011. "I pioneered the use of big drum sets and played with the butt end of the sticks early on. I did that because there were no P.A. systems."