The Association, The Vogues, The Happenings' Original Lead Singer Bob Miranda (Port Saint Lucie Civic Center- Port Saint Lucie)
* The Association, The Vogues, The Happenings' Original lead Singer Bob Miranda.
This is an absolutely great lineup!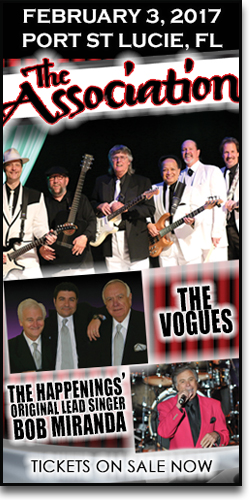 from showclix.com
On February 3, 2017, the Port St Lucie Civic Center will play host to a cavalcade of stars whose music filled the airwaves during the sixties. Bigger than any show we've ever done at the Civic Center, this show is jam-packed with hit records and the original singers who made them! Headlining the show are three of the most recognizable names of the era, each with a lengthy list of top ten hits to their name.
The Association, who just this year were inducted in the Pop Music Hall of Fame, scored three #1 smashes in their heyday – "Never My Love", "Cherish" and "Windy", "Along Comes Mary" and "Everything That Touches You". They have sold over 80 million records, tapes, CDs and DVDs, earning 6 gold and 3 platinum discs along with seven Grammy Awards Nominations.
The Vogues featuring original lead singer Bill Burkette ("5 o'Clock World", "Turn Around, Look at Me", "My Special Angel", "You're the One")
The Happenings' original lead singer Bob Miranda ("See You in September", "Go Away, Little Girl", "I Got Rhythm.")
Tickets: showclix.com or call 1-888-718-4253.
Tickets are also available at the Civic Center's recreation desk.
Don't miss this one-night-only rock and roll reunion. You'll know all the words to all the hits and be dancing in the aisles.
LIVE ON STAGE at the
Port St. Lucie Civic Center
9221 SE Civic Center Pl.
Port St. Lucie, FL 34952
Tickets: showclix.com