The Association, Gary Lewis & The Playboys, Lou Christie (Barbara B. Mann Performing Arts Hall- Fort Myers)
This article first appeared on 10/17/16. Just checked the Barbara B. Mann Performing Arts Hall box-office and there are only a handful of seats left- so if wanna go, and don't yet have tickets…
Posted on October 17, 2016
* The Association, Gary Lewis & the Playboys, Lou Christie.
Great lineup.
Literally just announced, so if you wanna be the " Early Bird"- go for it!
Tickets: bbmannpah.com
Trust Jeff Eats on this one, The Association fronted by original lead singer Jim Yester sounds exactly as it did in the 60's when it recorded hits like- Windy, Cherish, Along Comes Mary, Never My Love- and Gary Lewis and Lou Christie still got the pipes- sounding absolutely amazing on songs like This Diamond Ring, The Gypsy Cried and Lightnin' Strikes.
Like I said 3 seconds ago, great lineup!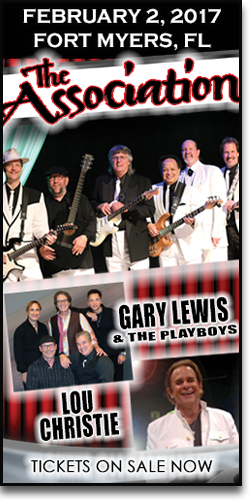 Stars of the sixties return to the Barbara B. Mann… Starring The Association ("Windy", "Never My Love", "Along Comes Mary", "Cherish", "Everything That Touches You"), Gary Lewis & The Playboys ("This Diamond Ring", "Green Grass", "Count Me In", "Save Your Heart for Me") and Lou Christie ("Lightning Strike", "The Gypsy Cried", "I'm Gonna Make You Mine", "Two Faces Have I"). Special guests The Classics will open the show. All groups feature original members. Don't delay – the last 2 year's shows have sold out!
Barbara B. Mann Performing Arts Hall
13350 FSW Parkway • Fort Myers, FL 33919
800-440-7469 • 239-481-4849