8th Annual Hot Works Boca Raton Fine Art Show (Boca Raton)
* 8th Annual Hot Works Boca Raton Fine Art Show!
Not trying to burst anybody's balloon or nothing, but these out-door art shows/festivals seem to run into each other down here in sunny Florida! I don't know about you guys, but I'm thinking- you've seen one, you've seem them all! I ask you- Who in their right mind is gonna buy one of those gigantic metal-animal sculptures?
That said, for some unknown reason Mrs. Jeff Eats is of a different mind-set, so look for Jeff Eats, Mrs. Jeff Eats and Jiggy The Dog Jeff Eats to be aimlessly wandering around the 8th Annual Hot Works Boca Raton Fine Art Show on Sunday, January, 29, 2017- around 2pm!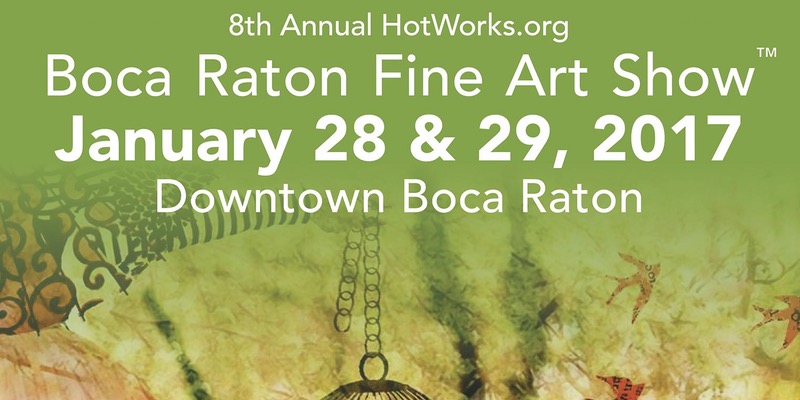 DESCRIPTION
Join us January 28 & 29 for the 8th annual Hot Works Boca Raton Fine Art Show, located in downtown Boca on Federal Highway and Sanborn Square Park. Voted top 100 art fairs in the nation, this juried fine art and fine craft show showcases top-notch quality artists from around the globe and locally to sell his/her original and personally handmade artwork in all discipline.
The Boca Raton Fine Art Show's focus is visual arts, diversity, community enrichment and fostering art education among youth. The quality of the artwork is judged by established industry professionals and many of the nation's best artists exhibit at this show. Our goal is to create an atmosphere that enhances the artwork and creates a relaxing environment for art lovers.
Potions in Motions will be onsite with gourmet food; there is a place in the park to sit and relax while eating lunch and listening to free live entertainment from world-class favorites. While at the show, be sure to check out the Budding Artist competition for grades 6-12 or ages 9-19. Sponsored by Institute for the Arts & Education this program encourages students to create his/her original art that is publicly displayed at the show the entire weekend. There is $250 in Budding Artist awards; join us on Sunday at 3pm for the Budding Artist awards presentation, which exposes students to the rules and entrepreneurship of doing art shows for a living!
Event hours are Saturday and Sunday from 10-5 daily. There is something for everyone, in all price ranges. More info at hotworks.org.
DATE AND TIME
Sat, January 28, 2017 & Sun, January 29, 2017
10:00 AM – 5:00 PM EST
LOCATION
Downtown Boca Raton
72 N. Federal Hwy
Boca Raton, FL 33432