Kosher Comedy Tour: Laughing From Right To Left (Boca Black Box- Boca Raton)
* Kosher Comedy Tour: Laughing From Right To Left.
This article first appeared on August 5, 2016. Jeff Eats just checked the Boca Black Box- Box Office (bocablackbox.com) and goldstar.com (discount tickets) and there are only a handful of seats left for tonight's (Friday 12/23) and tomorrow night's (Saturday 12/24) shows, so if you haven't lined-up tickets and still wanna go- do what you gotta do!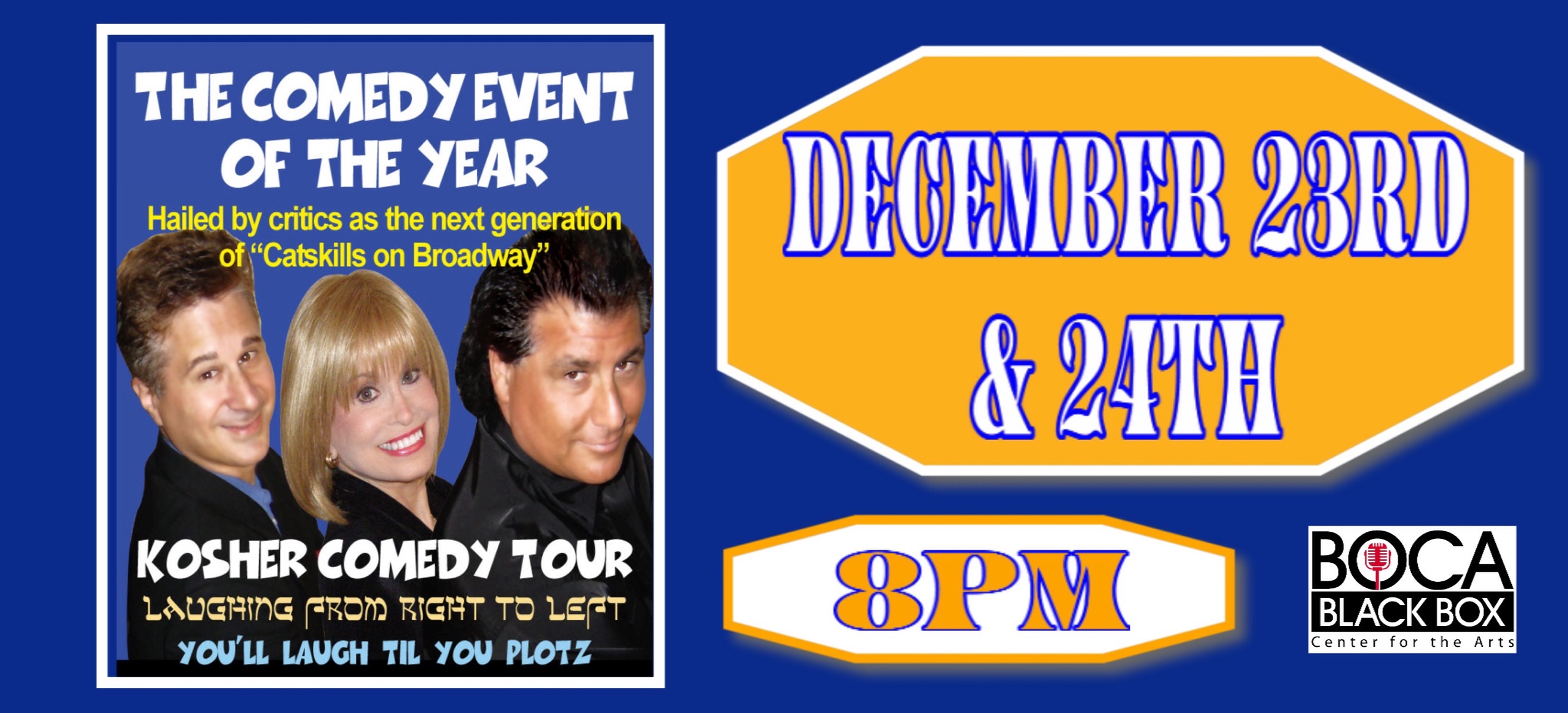 Posted on August 5th, 2016
* Kosher Comedy Tour: Laughing From Right To Left.
Just in case you guys are wondering what Jeff Eats and Mrs. Jeff Eats will be doing this coming- Christmas Eve (12/24) after eating dinner at China Gardens, 14400 Military Trail, Delray Beach, Florida 33484 (561) 498-5226…we are going to see the Kosher Comedy Tour: Laughing From Right To Left at the Boca Black in Boca Raton!
Jeff Eats and Mrs. Jeff Eats have seen Daniels, Moss and Fogel's comedy stand-up acts, trust me, all three are hysterically funny
If you wanna go, that is to the show…
Kosher Comedy Tour: Laughing From Right To Left
Friday, December 23, 2016 (8pm)
&
Saturday, December 24, 2016 (8pm)
Boca Black Box
8221 Glades Road #10
Boca Raton,FL 33434
Box Office: 561.483.9036
Tickets: bocablackbox.com goldstar.com (discount tickets)
from bocablackbox.com
KOSHER COMEDY TOUR: LAUGHING FROM RIGHT TO LEFT!
Better than a CHINESE BUFFET + FREE PARKING
Critics call it CATSKILLS ON BROADWAY – The Next Generation
It's X-MAS EVE – FUNNY JEWISH LIVES MATTER
SHARON DANIELS is an unusually talented and versatile comic impressionist and celebrity impersonator. At an early age she exhibited the ability of vocal mimicry by duplicating the voices of teachers, parents and friends. Honing her skills in standup comedy clubs, Sharon has developed a wide range of hilarious impersonations of comedians, actors, vocalists, and well known personalities, both female and male. Her range includes not only celebrity voices, but duplication of foreign or regional accents. She has a successful show of impersonations, comedy and singing… and was featured on the Oprah Winfrey Show, was a finalist on 30 Seconds To Fame, and had a recent spot on the Tonight Show. Sharon was awarded the "Cloney" in Las Vegas for Best Female Celebrity Impressionist by the International Guild of Celebrity Impersonators and Tribute Artists in 2003 and 2004.
____________________________________
STU MOSS has toured with some of the biggest names in entertainment. Air Supply, The Beach Boys, The Bee Gee's, George Benson, Michael Bolton, Chicago, Gregory Hines, Kenny G, Patti La Belle, Johnny Mathis, Stephanie Mills, Jeffrey Osborne, Dolly Parton , Barry White and for the past 4 years Engelbert Humperdinck. You may have seen him performing on the biggest cruise line vessels in the industry, Las Vegas, Lake Tahoe, and Atlantic City. His television credits include Showtime, Comedy Central, Chicago Hope, and NYPD Blue.
__________________________________________________________________
If you think you've heard funny man PETERS FOGEL'S voice or seen his face before—then you probably have. In the corporate marketing world his unique arsenal of hilarious characters have been used on many radio and TV commercials for a client roster that includes American Express, Mazda, Miller Lite, Zima, Budweiser, Mazda Motors, Wisk. (He was the Ring A Round the Collar Man) to name just a few. As an actor Peter was featured in the movie, Teen Wolf Too, with Jason Bateman and co-starred with Jeff Trachta (The Bold and The Beautiful) in the erotic Thriller, "Interloched" Peter has also shared the stage with Ray Romano, Dennis Miller, Ed Asner and recently on legendary comedian ROBERT KLEIN's 11th HBO Special. Peter's appeared or worked on over 22 shows including MARRIED WITH CHILDREN & UNHAPPILY EVER AFTER (to name just a few.) Presently, Peter is the National Touring Star of Steve Solomon's 'MY MOTHER'S ITALIAN, MY FATHER'S JEWISH, & I'M IN THERAPY!" and is gearing up with his one man multi-media one man show, 'TIL DEATH DO US PART… YOU FIRST!" that will tour around North America and parts of Jersey!
___________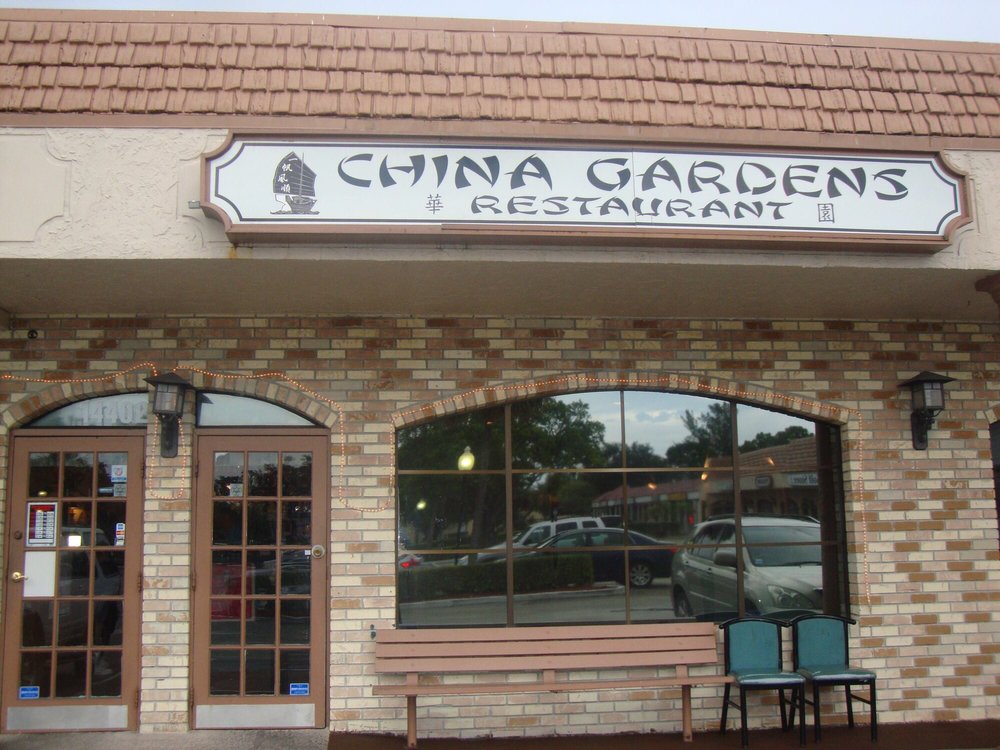 Posted on March 17th, 2009
***** China Gardens, 14400 Military Trail, Delray Beach, Florida 33484 (561) 498-5226.
A number of you guys e-mailed about a "mom & pop Chinese" joint…China Gardens, telling me about how good the food was, blah, blah blah. Anyway… last night I gave this joint a shot and "right-you-were"…the food is absolutely delicious.
China Gardens is as you would expect, a "hole in the wall" located in a non-descript small South Florida shoping center. Guaranteed (unless you are a recent arrival from Mars) you know exactly what the decor is…what the menu is…and what the price-points and "specials" are.
Now let's talk food…like I said before, DELICIOUS. Now for the official-results of my "taste test"….wonton soup (A), egg drop soup (A), hot & sour soup (A), egg roll (B+), pan fried dumplings (B+), sweet & sour pork (A+), chicken egg foo young (A), sizzling steak (A), shrimp with vegetables (A), shrimp with lobster sauce (A), roast pork fried rice (B+)…
Now I may-be going out on a limb here, but…my money says that China Gardens is probably better than your favorite neighborhood-Chinese joint. Let me go one step further, China Gardens could "make it" in New York City's Chinatown.
Based on my first outing, I will definitely be back for a second round.
China Gardens is open Monday-Saturday 11am-10pm and Sunday 2pm-10pm.