Sounds at Sundown (Margate)
* Sounds at Sundown.
Jeff Eats and Mrs. Jeff Eats got 2-dates penciled in!
If you insist- 1/7 & 2/4!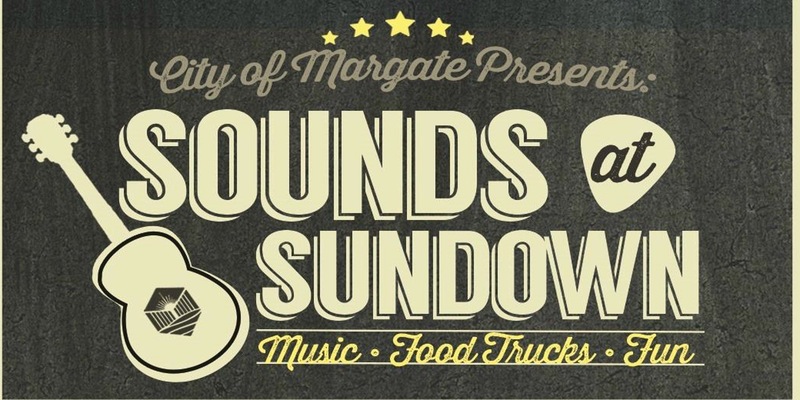 DESCRIPTION
The annual Sounds at Sundown concert series will once again bring live music, local vendors and delicious food trucks to Margate. The free events take place between the months of January through June 2017 from 5:00 p.m. to 10:00 p.m. at the corner of Margate Boulevard and State Road 7.
Craft vendors and food trucks will open at 5:00 p.m. to 10:00 p.m. with live music starting at 6:00 p.m. to 9:00 p.m. This year's concert line-up is as follows:
* January 7, 2017 – Chain Reaction: Journey and Styx tribute
* February 4, 2017 – Orange Sunshine: Tribute to 60s music
* March 4, 2017 – Rough Shot: Eclectic mix of all genres of music
* April 1, 2017 – Replay Band: High entry dance music
* May 6, 2017 – Rebels and Bandoleros: ZZ Top and George Thorogood tribute
* June 3, 2017 – The Samantha Russell Band: Country hits, classics, and originals
Along with musical entertainment, each event will also feature an eclectic mix of local craft vendors selling handmade jewelry, clothing, and gifts, and food trucks on site serving up delicious snacks, meals and desserts.
Plan to stay for the evening – attendees are encouraged to bring lawn chairs and blankets, relax, dance and enjoy the live entertainment, food trucks, and crafts vendors at their leisure. During select dates, visit the CRA tent for a chance to win gift certificates and retail items from local Margate businesses.