Peace of Woodstock (Boca Black Box- Boca Raton)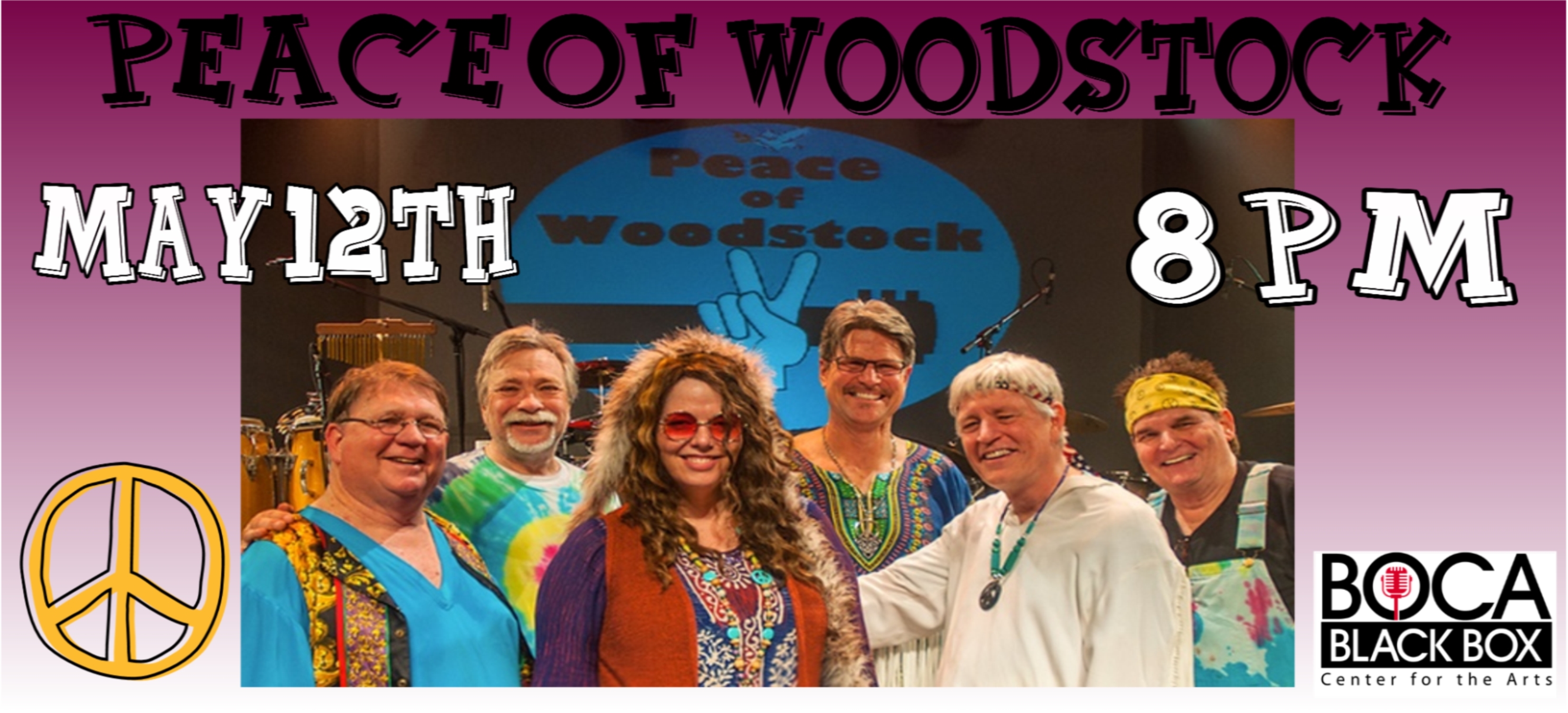 * Peace of Woodstock.
Jeff Eats and Mrs. Jeff Eats have seen this terrific 90 minute show- all I can tell you Baby Boomers out there- these guys will absolutely blow your mind!
Jeff Eats and Mrs. Jeff Eats are down for this one!
By the way, if the Boca Black Box date- doesn't work for you, printed down below is Peace of Woodstock's current- Florida tour schedule!
The Skinny:
Peace of Woodstock
Friday, May 12, 2017 (8pm)
Boca Black Box
8221 Glades Road, Boca Raton, Florida 33434
Box Office: (561) 483-9036
Tickets: bocablackbox.com goldstar.com (discount tickets)

from peaceofwoodstock.com
This show will take you on a musical journey from the acoustic opening act of the Woodstock experience, Richie Havens through the closing moments of the festival with the explosive, electric sounds of Jimi Hendrix. Also featured are songs from Crosby, Stills, and Nash, The Who, Janis Joplin, Sly and the Family Stone, Joe Cocker, Arlo Guthrie, Country Joe McDonald, Santana, the Jefferson Airplane, and others.
Most of the members of Peace of Woodstock grew up playing together in various bands around the Tampa bay Area, followed by many years extensively touring most of the 50 states and parts of Europe with many top groups and recognizable names in the rock world.
We know you'll enjoy viewing this 8 minute video (peaceofwoodstock.com) of highlights, recorded live, from a Peace of Woodstock performance. Vocally and instrumentally recreating the fun, party atmosphere of the Woodstock experience, Peace of Woodstock will excite and bring back the greatest memories of this life changing event. Party on!
December 23rd Skippers Smoke House Tampa, FL 8-12
February 11th Venom's New Port Richey 8-10
March 3rd 2017 The Club At Olde Cypress Naples, Fl 6:30-9:30
March 10th Circle Square Ocala Fl Womens Heart Association
March 25th Port Charlotte Cultural Center
April 7th Summer Crush Vineyard & Winery Ft. Peirce, Fl
April 21st Solivita Orlando, Fl
May 12th Black Box Theatre Boca Raton, Fl
July 22nd Palladium Theatre St. Petersburg
August 12th Del Webb Orlando
October 14th 2017 Carrollwood Cultural Center Tampa Fl 8-12