Willie Nelson with special guest Dwight Yoakam (The Amp-Pompano Beach Amphitheater- Pompano Beach)
* Willie Nelson with special guest Dwight Yoakam.
Just got this e-mail from the folks at the Pompano Beach Amphitheater!
Jeff Eats and Mrs. Jeff Eats are gonna catch some of those PRESALE TICKETS…please feel free to do the same!
Gonna be some terrific show!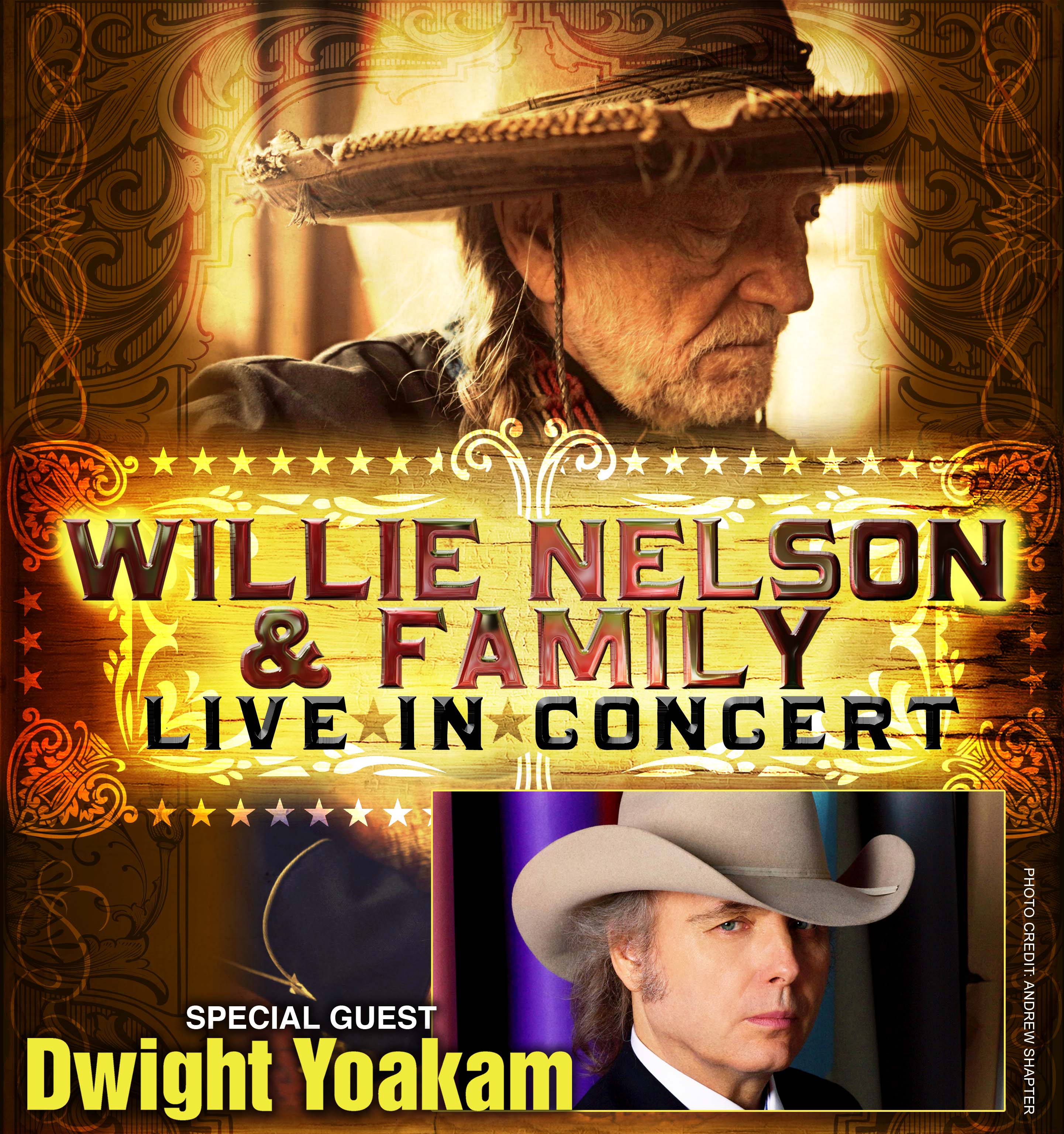 Hi!
It's looking like an amazing 2017 at The Amp. We are proud to announce Willie Nelson with special guest, Dwight Yoakam. See info and photos below. Plus, here is our schedule so far. If you would like interviews, please let me know. Thanks so much!
2017
1/14 8pm Eddie Money and Starship $25-$80
2/4 8pm Avett Brothers $64.50-$74.50
2/10 7pm Lynyrd Skynryd $25-$125
2/ 12 7:30pm Yes, The Album Series $25-$85
3/ 4 7:30pm Willie Nelson/ Dwight Yoakam $25-$124.50
3/17 8pm Billy Ocean Taylor Dayne $35-95
3/18 7pm Charlie Daniels/MarshallTucker $25 -$95
4/6 8pm Buddy Guy and The Rides $39.50-99.50
The Pompano Beach Amp and AEG Live Present Willie Nelson & Family
With Special Guest Dwight Yoakam
Presale 12/8 10 am, code "family"
On Sale: 12/9 10 am
Concert Date: Saturday 3/4/17 7:30pm
Tickets $25-$124.50 Ticketmaster.com
For more information, www.theamppompano.org or call 954-519-5500
The Pompano Beach Amp and AEG Live are proud to present a legendary night of country music. Multiple Grammy and CMA Award winner Willie Nelson, will be joined by the Family, his touring group for a night filled with classic hits. With 25 singles having reached #1 on the charts, Nelson is one of the most prolific singer-songwriters of our generation. His songs, including "On The Road Again," "Mama Don't Let Your Babies Grow Up to Be Cowboys," and "Always on My Mind," crossed genres and his iconic style has made him one of the most recognized entertainers in the world. Adding to this incredible night will be special guest star, Dwight Yoakam, who is revered for his pioneering country music.
With a six-decade career and 200 plus albums, Willie Nelson is the creative genius behind the historic recordings of Crazy, Red Headed Stranger, and Stardust. The iconic Texan has earned every conceivable award as a musician and amassed reputable credentials as an author, actor, and activist. He continues to thrive as a relevant and progressive musical and cultural force. In the last five years alone he delivered 10 new album releases, released a Top 10 New York Times' bestsellers book, again headlined Farm Aid, an event he co-founded in 1985, received his 5th degree black belt in Gong Kwon Yu Sul, headlined the last three years of the on-going Luck Reunion food and music festival at his ranch in Luck, TX , announced the launch of his cannabis company Willie's Reserve, and graced the cover of Rolling Stone magazine.
In 2015, Nelson added two more titles, "It's A Long Story: My Life," the unvarnished and complete story of Willie, hit bookshelves and landed him on the New York Times' bestsellers list; and the new studio album with Merle Haggard titled Django And Jimmie, which debuted at #1 on Billboard's Country album chart and #7 on Billboard's Top 200 album chart. In November 2015, the Library of Congress honored him with their Gershwin Prize for Popular Song for his contributions to popular music. He is the first country artist to receive the distinguished award. And this year began with the release of Summertime: Willie Nelson Sings Gershwin, a collection of 11 newly recorded Gershwin classics. The album debuted at #1 on both the Top Current Jazz chart and the Top Traditional Jazz chart.
Dwight Yoakam has sold more than 25 million albums worldwide, and he is a 21-time nominated, multiple GRAMMY Award winner. He has 12 gold albums and 9 platinum or multi-platinum albums, with five of those albums topping Billboard's Country Albums chart, and another 14 landing in the Top 10. Nearly 40 of Yoakam's singles have charted, with 14 peaking in the Top 10. He received the Artist of the Year award at the 2013 Americana Music Honors & Awards ceremony, the most prestigious award offered by the organization.
On September 23, 2016 Yoakam released his first ever bluegrass album Swimmin' Pools, Movie Stars on Sugar Hill Records. Featuring a band of bluegrass luminaries, this album boasts a collection of reinterpreted favorites from his catalogue, as well as a cover of Prince's "Purple Rain." Produced by nine-time GRAMMY winner Gary Paczosa (Alison Krauss, Dolly Parton), Jon Randall (songwriter of "Whiskey Lullaby"), and Yoakam himself, and mixed by Chris Lord-Alge, this album reflects the love for bluegrass music that Yoakam developed at an early age in Kentucky, and that has inspired him for many years thereafter. In addition to his musical career, Yoakam is a formidable film and television actor, capable of seamlessly melting into his roles, and impressively standing toe-to-toe with some of the world's top thespians over the course of his storied and successful acting career, including Jodie Foster, Tommy Lee Jones, Jared Leto, Forest Whitaker, and Matthew McConaughey.