The Magic of Christmas (Boca Black Box- Boca Raton)
This article first appeared on 11/21/16. Jeff Eats just checked the Boca Black Box Office (bocablackbox.com) and there are a handful of tickets left for tonight & tomorrow night's performances. By the way, for you guys who want to bring children, for every adult ticket purchased by phone (561) 483-9036 you will receive a FREE TICKET for your child!
* The Magic of Christmas.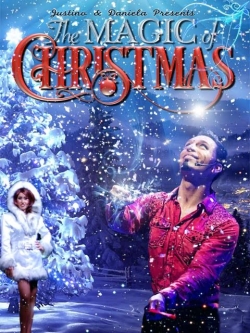 Posted on November 21st, 2016
* The Magic of Christmas.
Just between you guys and Jeff Eats- since the age of 5-clowns have scared the crap out of me and I've loved magic shows!
Just picked-up two-$25 (12/2/16 show) tickets from Goldstar Events (goldstar.com) for $12.50 a piece!
Hopefully- magicians Justino and Daniela Zoppe aren't dressed as clowns!
from goldstar.com
"How'd they do that!?" That's what you'll be asking after witnessing the mind-blowing illusions, cirque acts and sleight-of-hand wizardry in The Magic of Christmas. A magic show the whole family can enjoy together, The Magic of Christmas is a fun, holiday-themed treat by magicians Justino and Daniela Zoppe, who've performed throughout more than 40 countries and entertained the U.S. Secret Service, Victoria's Secret and thousands of Disney Cruise Lines guests along the way. Blending magic, technology and inspiring true-life stories, the Zoppes now share The Magic of Christmas with you on the Boca Black Box stage in Boca Raton.
The Magic of Christmas
Friday December 2, 2016 / 8:00pm & Saturday December 3, 2016 / 7:00pm
Boca Black Box
8221 Glades Road
Boca Raton, FL 33434
Box Office: 561-483-9036
Tickets: bocablackbox.com goldstar.com (discount tickets)