Burger Beast Museum Grand Opening- 12/2/16 (Magic City Casino- Miami)
* Burger Beast Museum Grand Opening- 12/2/16.
Jeff Eats kinda knows that most of you guys won't-be-dropping-everything to run there, nor will the Burger Beast Museum be on too many "bucket lists"- that said, next time you're at the Magic City Casino playing/eating/concert going- the Burger Beast Museum sounds like something you may want to check-out!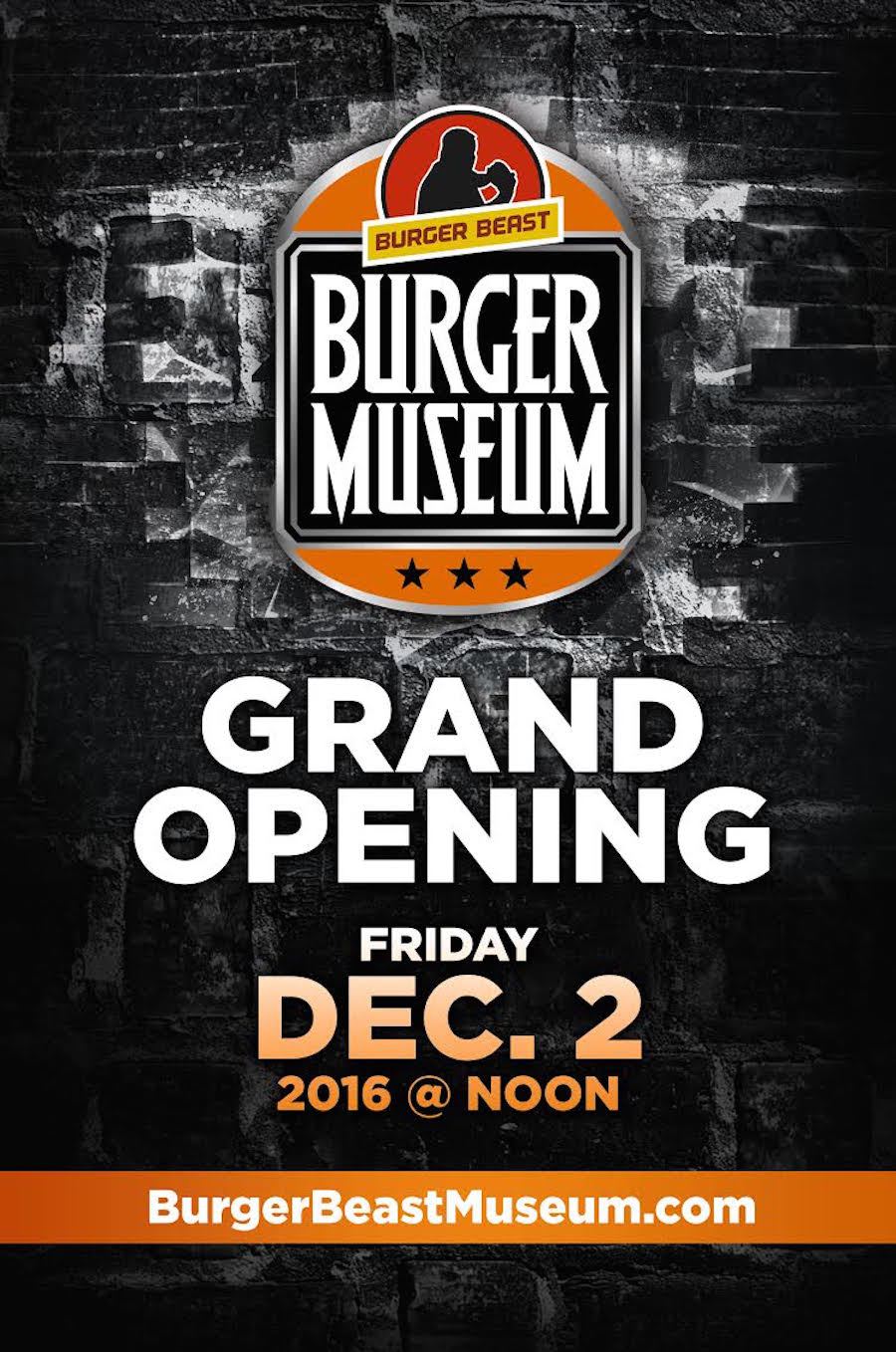 from burgerbeast.com
Nostalgia and history served at the Burger Beast Burger Museum
The Burger Beast Burger Museum will open Dec. 2 at Magic City Casino in Miami. The museum is filled with vintage memorabilia of all things fast-food from South Florida and beyond.
Johnny Diaz Johnny DiazContact Reporter
Burger Beast Burger Museum is an ode to alll things fast-food from South Florida and beyond. It opens Dec. 2 @
Walk into this museum and you may just get hungry. Really hungry, for some nostalgia.
Wrappers and boxes from classic Whoppers and Big Macs fill display cases. Vintage uniforms from Wendy's and McDonald's adorn mannequins.
Ash trays, collectible drinking glasses and menus from former local and national chain restaurants such as Red Barn, Sambo's and Wuvs also have a home here at the new Burger Beast Burger Museum at Magic City Casino in Miami.
The 1,500 square-foot space, which opens Dec. 2, houses a vast assortment of fast-food and restaurant memorabilia collected by South Florida food blogger Sef Gonzalez, also known as Burger Beast.
"I want people to kind of relive their youth and look back on this stuff. I've had people come in and say 'I remember going to eat with my family at this restaurant' and they tear up," said Gonzalez, who stored 4,000-plus items in his northwest Miami office before trucking the bulk of his collection to Magic City. "But I also want people who were not around then to learn something about the past."
Burger Beast Burger Museum
Museum dedicated to fast-food chain restaurants opens Dec. 2 at the Magic City Casino in Miami. (Susan Stocker)
The museum is an extension of Gonzalez's love of burgers and their history. He was working as a retail manager in 2008 when he began burning out and feeling frustrated.
"My wife said, 'Oh why don't you start writing about places that you like to eat,' " Gonzalez recalled of the birth of his Burger Beast blog, which focuses on burgers, fried food, hot dogs, desserts and food trucks. "She came up with the name, Burger Beast."
But it wasn't until a friend gave him a sign from an old Burger Chef restaurant that Gonzalez developed an insatiable curiosity about long lost and still around burger joints.
South Florida's best burgers
Here are some of the best burger joints in South Florida. From traditional beef patties to ones with elk meat, topped off with everything from caramelized onions to fried cheese curd, these restaurants sure know how to dress a burger.
Follow SouthFlorida.com on Twitter, Facebook and Snapchat. (Talia J. Medina, Barbara Corbellini Duarte, Phillip Valys, Marian Liu)
"Burger Chef started it and then I got into [collecting] McDonald's and Burger King," said Gonzalez, who scoured eBay, Craigslist and garage sales for hard-to-find items. "Yes, I have a problem," he said with a guffaw. Over the years, people donated name tags, cups and other items to his collection.
"It's like capturing my childhood," said Gonzalez, who grew up in Westchester in southwest Miami-Dade County. He remembers eating at different restaurants on Thursdays with his family when his mother would get out of work early from her office job. One of his favorites was Burger King because there weren't many McDonald's nearby.
"[At Burger King] I started off with one cheeseburger, then two cheeseburgers. I always did no pickles and then I graduated to a double cheeseburger and then just a cheeseburger," he recalled fondly. That was when cashiers wore floppy golden and brown hats and repeated orders on microphones.
In addition to his blog, Gonzalez organizes food-related events such as the Hamburger House Party and his Croquetapalooza at Magic City Casino. His relationship with the casino led to establishing the museum there, which took about a year to build.
The museum is thick with South Florida nostalgia and slices of history. Did you know that there was a Burger Castle chainstarted by Charles Krebs, Burger King's first franchisee in Miami? Or that Kentucky Fried Chicken had a spinoff called Kentucky Roast Beef and Ham? Or that Red Barn burger chain was based in Fort Lauderdale in the 1960s?
Visitors could get lost marveling all the items on display at the burger museum. There's a giant figurine of Officer Big Mac from McDonald's and one of the infamous Hamburglar. A framed black and white photo from the first Royal Castle in downtown Miami. Gonzalez even has a corner table for two from a Wendy's with a framed photo of late founder Dave Thomas.
Gonzalez is still adding the final touches on his museum. The documentary "Hamburger America" will play on a loop in front of a dining booth. He is also building a chicken coop to hold items (a portrait of Colonel Sanders for instance) from fried chicken eateries.
"I think Miami is so fast to tear things down here that they don't do a good job of holding on to a bit of the history," added Gonzalez. "If I am able to do that at least a little bit for people, that would be cool."
The Burger Beast Burger Museum opens Dec. 2 at Magic City Casino, 450 NW 37th Ave., Miami. Admission is $10 adults and $5 for children. For more information, burgerbeastmuseum.com.