NY Comedy Night Presents- Steve Marshall (Boca Black Box- Boca Raton)
* NY Comedy Night Present- Steve Marshall.
Jeff Eats just received this e-mail "COMPLIMENTARY" ticket offer from the Boca Black Box in Boca Raton.
Jeff Eats and Mrs. Jeff Eats have seen comedian Steve Marshall a handful of times and the "light blue" Marshall puts on an absolutely hysterical show!
Just so you know, the tickets are FREE-BUT YOU HAVE TO PURCHASE 2 ITEMS PER TICKET! For you guys who maybe "wondering" or shall we say-"concerned"- 2 bottles of water will work, same for for 2 sodas- if you get my drift!
The Skinny:
NY COMEDY NIGHT PRESENTS- STEVE MARSHALL
Thursday, November 10, 2016 (8pm)
Boca Black Box Center for the Arts
8221 Glades Road #10 Boca Raton, FL 33434
Info: bocablackbox.com
CALL BOX OFFICE FOR FREE TICKETS: 561.483.9036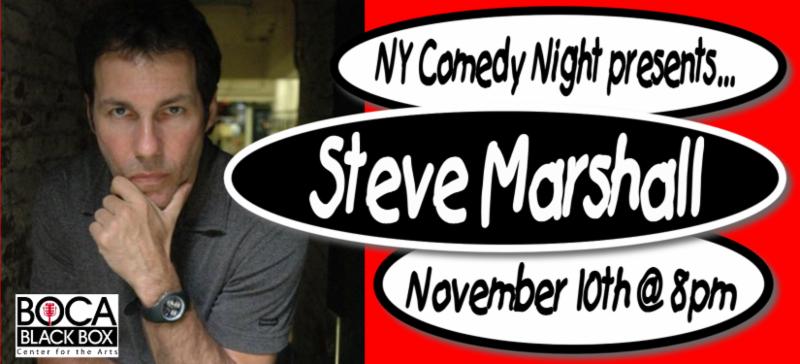 Receive 2 FREE tickets to Thursday Night NY Comedy Night!
Mention this email when you call or come into the Box office to receive your complimentary tickets.
*Two Item purchase per ticket required*
This National Headlining Comedian has had multiple Television Appearances, including shows on NBC, CNBC, Food Network with Bobby Flay and CBS to name a few. He debuted his One-Man Show: "What I Learned in Brooklyn is Don't Behave!" at the Coral Springs Center for the Performing Arts in Florida. Steve Directed the feature film: "Driving Me Crazy" stars Mickey Rooney, Dick Cavett, Joseph Bologna, Renée Taylorand Louise Lasser. It is currently in post production. Don't miss this National Headlining act right here at the Box! Get Tickets