Win A $100 Shake Shack Gift Card
This "contest" started on 11/8/16. This contest has a winner!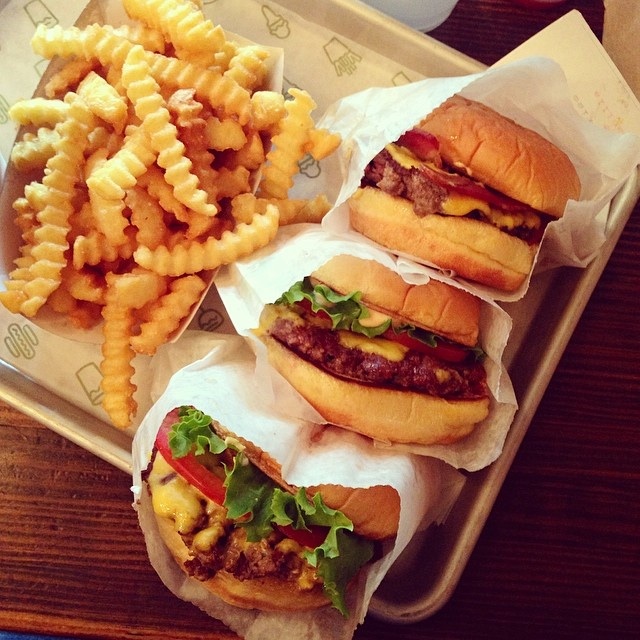 * Win A $100 Shake Shack Gift Card.
Jeff Eats got a $100 Shake Shack Gift Card to give to one of you guys!
The game- the first 20 "reader-comments" received – will be entered in a "blind hat pick"! You can submit as many comments as you'd like but- Please, only 1- reader comment – per day…play fair!
The $100 Gift Card is good at any Shake Shack location (shakeshack.com for locations, menu, info).
Post April 20, 2013
***** Shake Shack, 1400 Glades Road, Boca Raton, Florida 33431, (561) 923-0847.
Before Jeff Eats gets started here…let me state without equivocation- I'm not a shill for "gourmet" fast-food burger chain Shake Shack. Unfortunately, I don't "have" a piece of this deal.
With that out of the way, let me reprint the two articles that Jeff Eats has already run on this up and coming chain.
***August 1, 2010
Shake Shack… "order at/pickup at counter"…burgers, fries, hot dogs, custard, shakes.
There are 5 Shake Shacks in New York City…1-in Saratoga, New York…1-in Miami, Florida.
This is "fast food" at its best.
Check www.shakeshacknyc.com for menu/prices/locations/pictures.
The next time you are down in South Beach, this joint is an absolute-must-try…Just so you know, Shake Shack has a cult-like-following…so don't be surprised by some heavy duty crowds and lines.
Shake Shack is open Sunday-Thursday 11:30am-midnight, Friday-Saturday 11:30am-1am.
***August 12, 2012
Back on August 1, 2010 Jeff Eats told you about Shake Shack which had just opened in South Beach..
In that "review"–I told you guys that Shake Shack a fast-food burger joint was "fast food at its best."
Regular Jeff Eats readers know, that there is no doubt in my mind- that the fast-food burger "business" is totally oversaturated with players—that one day, in the very near future-this gigantic game of musical chairs is gonna end very badly for most of them. There is also no question in my mind, that when all is said and done, Shake Shack will be one of the few players left standing.
————–
This evening, Jeff Eats, Mrs. Jeff Eats, and another couple "attended" a "Friends & Family Practice" at the newest Shake Shack which is scheduled to open in Boca Raton at 11am this coming Monday–April 22, 2013. We were there roughly from 6:45 pm to 8pm and I would guess that something like 150 got to try Shake Shacks' stuff… being a party of four, we made sure to order all types of "items"— double cheeseburger, french fries, cheese french fries, grilled hot dog, chocolate custard cone, coffee shake, chocolate toffee "concrete" (think Dairy Queen's Blizzard and you'll be on the right page), grilled chicken dog,
Let Jeff Eats make this as simple and as clear as possible…Shake Shacks' food is delicious. That said, to give you guys a fair shake (pun intended)-the only item that needs improving are the french fries…Shake Shack uses a "frozen" product which is good but it's definitely not on the same level as the "fresh" cut fries that competitors like Five Guys and BurgerFi turn-out.
As I mentioned 3 seconds ago, this "practice" session was held in the new Boca Raton store. Talk about a great location—Shake Shack's free standing building (which has both indoor and outdoor covered patio seating) is located right across the road from FAU's campus and is in walking distance of Boca Raton High School, a half-dozen hotels, Boca Town Center and loads of office buildings. At this stage of the conversation check www.shakeshack.com for menu/prices/locations and loads of photos that will give you some idea as to what this really cool joint looks like.
Normally on his sojourns, Jeff Eats doesn't sit/stand around talking to a joint's management…that said, the "Friends & Family Practice" presented an opportunity to chat with Zachary Koff (VP of Operations), Greg Waters (Manager, Marketing & Communications), Josh (Boca's Assistant General Manager), Dustin (Boca's General Manager) and Peggy (Director of Training)…suffice it to say, those conversations made it quite obvious why Shake Shack is such a well-run business. No crapping around here, these folks know the fast food business inside and out and seem to have one single goal–that being to present the guest with an outstanding dining experience. Secure in the fact that I'm not a Shake Shack shill—Jeff Eats is telling you that my fast food operations background with Hardees, Discovery Zone and Johnny Rocket's—kinda gives me a real good point of reference on how things are suppose to work…and Shake Shack comes as close to operational perfection as I've seen on the fast food level.
Let me end this thing by saying…
If you like burgers/hot dogs/fries/shakes and haven't been to a Shake Shack (which currently has… 9 New York, 2 Connecticut, 3 Florida, 2 Washington DC, 1 Massachusetts, 1 Pennsylvania locations) you now have 3 South Florida locations to try and— find out if Jeff Eats knows what he's talking about or is just a blabbering idiot.
***One final note, to Shake Shacks' management do Jeff Eats a huge-gigantic favor and add a chicken burger to the menu…so he can get Mrs. Jeff Eats off his ass. Thanks,