Ronnie Spector (FAU-Carole & Barry Kay Auditorium- Boca Raton)
* Ronnie Spector.
The below-article first appeared on 8/30/16. A quick update-the legendary Ronnie Spector along with Joey Dee & The Starliters, Jimmy Beaumont & The Skyliners and The Legendary Teenagers will be appearing Saturday, March 11, 2017 (8:00pm) at FAU- Carole & Barry Kaye Auditorium, 777 Glades Rd, Boca Raton, Florida 33431. Tickets go on sale November 10, 2016 at 10am at Ticketmaster.com.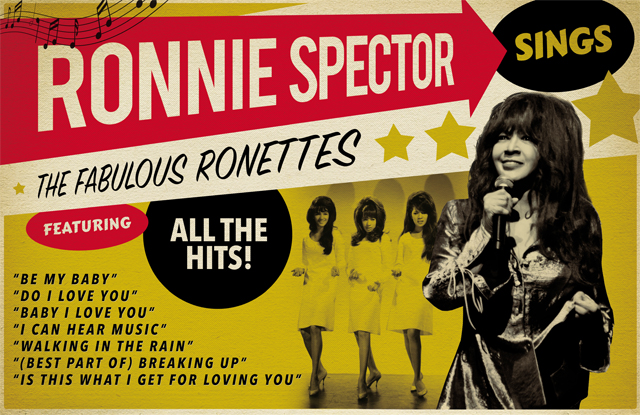 Posted on August 30th, 2016
* Ronnie Spector.
For right now- just a rumor, but Jeff Woodward & Bernstein Eats is hearing that based on her recent European and New York SRO concerts, the kinda reclusive- Rock & Roll Hall Of Famer- Ronnie Spector is in negotiations for a very rare March, 2017 South Florida public appearance!
Like I just said, for right now-just a rumor- with no firm date or venue!
For you guys who don't know who Ronnie Spector is, shame on you! For crying out loud, the lady ONLY sang lead on Be My Baby which just might be the greatest Rock n Roll girl group record of all time!
No ifs, ands or buts- "if" announced, South Florida- tickets to see the legendary and I do mean legendary Ronnie Spector will immediately sell-out!
To stay on top of this "developing" story- jeffeats.com,