Fall Festival At Village Park (Village Park- Wellington)
* Fall Festival At Village Park.
If Jeff Eats was an 8 year old kid, I'd be annoying the crap out of my parents to take me to this thing!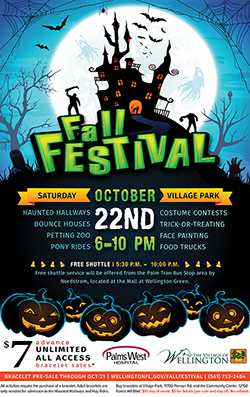 Village Park
11700 Pierson Road
(561) 791-4005
Fall Festival at Village Park
Wellington's annual Fall Festival event is held in October of each year at Village Park. In addition to our most popular "one-night-only" attraction, the Haunted Hallways, families and friends can enjoy:
Haunted Hallways
Trick-or-treating
Costume Contests
Pie eating contests
Bounce Houses
Petting Zoo
Pony Rides
Hay Rides
Face Painting
Food Trucks
Music DJ & Dance Performances
Vendors and more!