Pauly and The Goodfellas (Century Village at Deerfield Beach- Deerfield Beach, Maltz Jupiter Theatre- Jupiter)
* Pauly and The Goodfellas.
This article first appeared on August 18, 2016. Jeff Eats just checked Century Village at Deerfiled Beach and Maltz Jupiter Theatre box offices and there are just a handful of tickets left for their respective shows. So if you wanna go-and don't yet have tickets- time to make your move!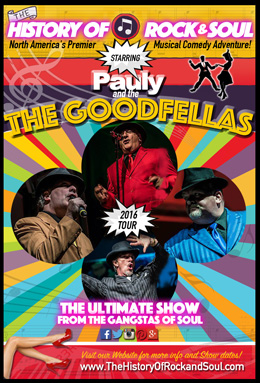 Posted on August 18th, 2016
* Pauly and The Goodfellas.
Jeff Eats just purchased 4- tickets!
Pauly and The Goodfellas- the legendary 50's-80's party/show band makes a rare public Florida appearance- Saturday Night (7pm), February 4, 2017 at Century Village at Deerfield Beach, 250 Century Boulevard, Deerfield Beach, Florida 33442, (954) 866-8910.
For you guys unfamiliar (or is it- not familiar?) with Pauly and The Goodfellas, the band based in Canada has been around for something like 35 years and if you "think" Sha Na Na, you'll be in the right wheelhouse!
Jeff Eats has been a Pauly fan for years, but as I just mentioned, the band very rarely plays Florida not to mention South Florida (so I won't)! Keep it between us, but I'm hearing that Pauly recently "acquired" a Margate home, so just maybe, we'll be seeing Pauly and The Goodfellas down here in Florida more frequently, but that's just a guess!
All I can tell you, if you're into 1950's-1980's music, Pauly and The Goodfellas is an absolute must see!
If you still need some convincing as to how good and entertaining Pauly and The Goodfellas is, checkout the band's website paulyandthegoodfellas.com is!
There is no doubt in Jeff Eats' mind that Pauly is gonna sell-out Century Village at Deerfield Beach. If you live in the community, tickets are 13 bucks. If you are a non-resident, tickets are 18 bucks! Like Jeff Eats did, you can buy tickets online at centuryvillage.com. Just so you know, there are no "ticket service charges"- so 13 means 13 and 18 means 18!
One final note, Century Village at Boca Raton (3/7/17), Century Village at West Palm Beach (3/9/17) and Century Village at Pembroke Pines (3/11/17) have Pauly and The Goodfellas booked, but these venues (unlike the Century Village at Deerfield Beach) don't allow non-residents to purchase tickets! By the way, if the Deerfield Beach date doesn't work for you, Pauly has a 3/10/17 (7:30pm) public appearance show at the Maltz Jupiter Theatre, 1001 East Indiantown Road, Jupiter, Florida 33477, Box Office Phone: (561) 575-2223, jupitertheatre.org.