Florida Panthers Opening Night Offer (BB&T Center- Sunrise)
* Florida Panthers Opening Night Offer.
Jeff Eats stopped following professional hockey the day Bobby Richardson retired!
That said, the below e-mail "offer" maybe of interest to you guys who follow professional hockey more closely than Jeff Eats does!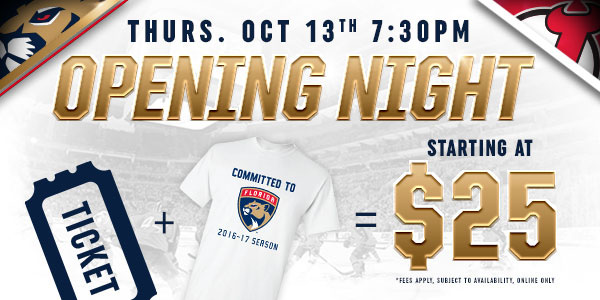 Florida Panthers Opening Night Offer
Get into Opening Night with this special offer!
The ticket package starts at $25 and includes your game ticket and a
2016-17 new logo t-shirt!
In addition, all fans will receive an Atlantic Division Champions Mini Banner!
PURCHASE TICKETS: ticketmaster.com
Florida Panthers Ticket Packages start at 10 games.
For questions, please call 954-835-PUCK or CLICK HERE for more info.
You are receiving this email because you are a past ticket purchaser, entered a promotion or opted in for email updates.
To update your subscription preferences from the Florida Panthers Hockey Club click here.
Florida Panthers Hockey Club | 1 Panther Parkway | Sunrise, FL 33323