The Wise Guy Kitchen featuring Vincent Fiore (Boca Black Box- Boca Raton)
* The Wise Guy Kitchen featuring Vincent Fiore.
The below article first appeared on September 18, 2016. Jeff Eats just received a $5 OFF PER TICKET e-mail "offer"- so if you wanna go…have at it! The way I see it, better in you pocket than theirs!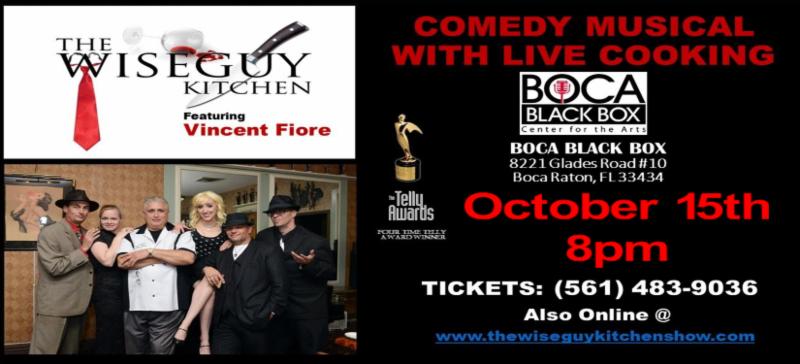 SPECIAL! Use Discount Code PIZZA at checkout (bocablackbox.com) & SAVE $5 per ticket.
Posted on September 18th, 2016
* The Wise Guy Kitchen featuring Vincent Fiore.
Jeff Eats and Mrs. Jeff Eats just picked up 2- tickets for this one!
Very funny "interactive" comedy show- saw it in Clearwater in 2013 and I'm thinking you guys will really get a kick out of it!
For tickets, bocablackbox.com also check goldstar.com for discount tickets.
from bocablackbox.com
KITCHEN
Patrons of our Musical Comedy "The Wiseguy Kitchen Live Show" will follow the shenanigans behind the scenes and in front of the camera as the former mob boss, turned reality star Big Vinny, aka The Wiseguy Chef and his crew, try to go legit. During the performance of live cooking show, The Wiseguy Chef tries to teach his patrons how to prepare delicious Italian American cuisine with the help of Vinny's beautiful assistant Nina Baccala. much to the Chagrin of Maria the only book smart girl in the group.
While Vinny's intentions are genuine, he's brought along his former sidekicks Uncle Carmine and Louie The Loan Shark who he's employed to help run the cooking show and frankly, they aren't as committed as Vinny when it comes to going straight. While Vinny tries to teach his patrons how to cook, the crew are stirring up plenty of trouble on their own, you will soon get the idea once you are seated in the audience !
With so much excitement, there are plenty of opportunities for the audience to play a part in the show. There's music, comedy, singing and a chance to sample the freshly cooked food of chef Vinny! Never before has a show such as ours been produced with a live cooking demonstration during a theatrical performance..