National Coffee Day
* National Coffee Day.
Today is National Coffee Day!
Jeff Eats just heard that today, nationwide- all Krispy Kreme Doughnuts' locations are giving customers a free cup of coffee and a free glazed doughnut.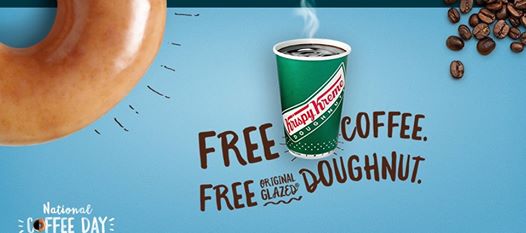 For a Krispy Kreme Doughnuts near you- krispykreme.com.
For you guys wondering "what" Starbucks is doing to celebrate National Coffee Day- its got some promotion running where certain purchases result in the planting of a certain type of tree in Mexico! Just between you guys and Jeff Eats the promotion sounds like a load of crap to me! The freaking event is NATIONAL COFFEE DAY, not NATIONAL MEXICO COFFEE DAY.
By the way, the folks over at Dunkin' Donuts are celebrating National Coffee Day "by only charging" 66 cents (sorry, not sure what normal price is) for medium size- coffee! Like the Starbucks' tree promotion, Dunkin' Donuts' "discount" sounds -like another load of crap to Jeff Eats!
Jeff Eats is just calling it like I see it!