Ruggero's Ristorante (Fort Lauderdale)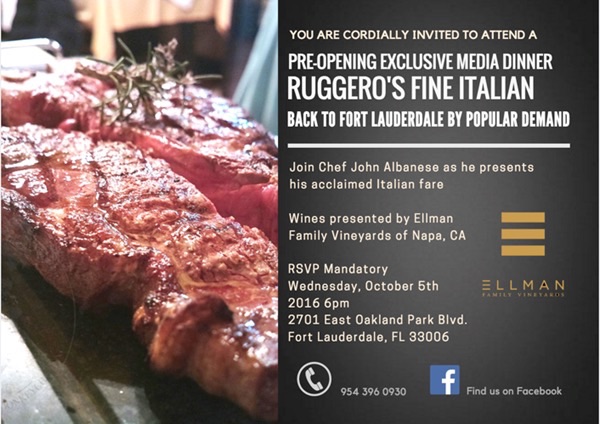 * Ruggero's Ristorante, 2701 East Oakland Park Boulevard, Fort Lauderdale, Florida 33006, (954)396-0930.
Jeff Eats is hearing some real nice "buzz" about Ruggero's Ristorante which is set to open on Friday, October 7, 2016 in Fort Lauderdale.
Just got invited to "try" the joint out a couple of days before it officially opens!
A taste of background, years ago- long before Jeff Eats was Jeff Eats- Jeff Eats and Mrs. Jeff Eats (who at the time wasn't yet Mrs. Jeff Eats) ate at Ruggero's when it was located in Sunrise…the food and service were absolute dynamite! Hopefully, the "re-opened" Ruggero's has the same delicious food and terrific service!
Jeff Eats will give you guys the skinny- after the Media Dinner!
________________
PRESS RELEASE
RISTORANTE
Acclaimed Restauranteur John Albanese Brings His Refined Italian Dining Experience Back to Fort Lauderdale
To Open for Dinner Friday October 7, 2016
Fort Lauderdale, FL Back in January, 2005, Judith Stocks, one of the many reviewers who were wowed by the original Ft. Lauderdale Ruggero's Ristorante, said in the Sun Sentinel, "Slow down or you'll miss this sophisticated white-tablecloth spot, tailor-made for anyone with an appetite for an Italian restaurant with a side of steakhouse." Restauranteur/Chef John Albanese enjoyed great success with Ruggero's before he closed up shop to open and operate restaurants in the Northeast, and was most recently the lead consultant for Sofia Steakhouse in Englewood, NJ rated 4 stars by the New York Times.
Although the location of Ruggero's Ristorante is new, located on Oakland Park Blvd. in Fort Lauderdale, the menu is reminiscent of the original with ample selections of the freshest seafood, pastas, prime steaks, house-made soups, breads, desserts and more. Favorite dishes that John Albanese is bringing back to his menu include:
• U1 Fresh New Zealand Langostinos – prepared Scampi-style
• Risotto Soufflé – encased in baby eggplant with radicchio and porcini mushrooms atop a creamy tomato sauce
• Zucchini Blossoms – stuffed with ricotta cheese and Parma prosciutto
• Bread and Garlic Soup – a house favorite
• Perciatelli Al Tonno – pasta with Sicilian tuna, capers, olives, garlic, and plum tomatoes
• 48 oz. Dry Aged Porterhouse for two
• Butcher cut Filet Mignon
• Brick oven Roasted Baby Suckling Pig for two with roasted Rosemary potatoes
• Fresh Maine Lobster – prepared many ways including Fra Diavolo, Broiled, Steamed, Sicilian-style, "Angry" Arrabbita, Lobster Tail Francese and Cognac Lobster Tail
• Whole Crispy Red Snapper – with angel hair crisp noodles and black bean reduction
• And so much more
The Miami Herald declared in its review of the original Ruggero's Ristorante, "Exceptional. The restaurant does a fine job with its pastas and entrees, offering a varied selection of fish, steak, chicken, pork and lamb, as well as shrimp and lobster. Among the entrees we've tried have all been winners." Since John Albanese is keeping and improving most of his original menu, the same high praise will certainly be true with the grand opening of the new Ruggero's.
Ruggero's Ristorante will open for dinner on Friday, October 7, 2016.
Daily Happy Hour will be Monday-Friday, 5-7 PM and will feature drink specials and discounted menu prices at the bar only.
Stay tuned for news on the Lunch service, scheduled to start in the next few weeks.
About Restauranteur/Chef John Albanese
John Albanese has authentic Italian cooking in his DNA. Both parents were professional chefs in Sicily before they relocated to New York, right before John was born. John's father was the Head Chocolatier at Li-Lac, Manhattan's oldest chocolate house, and John would accompany his father as he delivered his Li-Lac mousse to all the top restaurants in the city. As a teenager, John's first job cooking was at the original landmark Ruggero's Ristorante in Little Italy in NYC. In Fort Lauderdale, John opened the first Ruggero's in 2001 on Sunrise Blvd. as well as Cocopazzo and Smoke Chophouse and Cigar Emporium which had the city's first cigar bar. Most recently, John was the lead consultant at the highly-acclaimed Sofia Steakhouse in Englewood, NJ. The return of Ruggero's Ristorante in Fort Lauderdale is one of the most highly-anticipated restaurant openings in South Florida.
Ruggero's Ristorante
2701 East Oakland Park Blvd.
Fort Lauderdale, FL 33006
954-396-0930
www.ruggerosfortlauderdale.com