Buffalo Bash 2016 (Mizner Park Amphitheater- Boca Raton)
* Buffalo Bash 2016.
Although Jeff Eats and Mrs. Jeff Eats have prior commitments for this coming Sunday, as Animal House alumni- we definitely- will make time to help-raise money for Autism Speaks!
Hopefully we'll see some of you guys "out there" on Sunday!
Toga! Toga! Toga!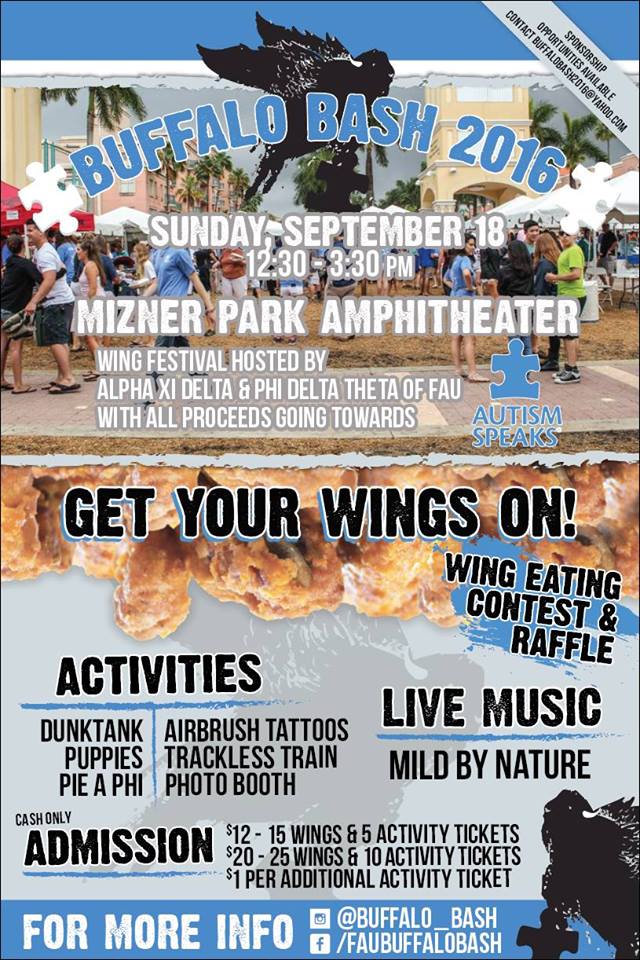 Buffalo Bash is a food festival hosted by Alpha Xi Delta and Phi Delta Theta that invites locals to showcase their best version of the chicken wing
Mission:
To raise money and awareness for Autism Speaks.
Description:
Buffalo Bash is an event first started by the brothers of Alpha Tau Omega at the University of Alabama Huntsville. For the third time in Boca Raton, Phi Delta Theta and Alpha Xi Delta from Florida Atlantic University will be holding a version of their time tested event. Buffalo Bash celebrates the tasty buffalo creations of local restaurants and amateur cooks around the Palm Beach area. The ever-popular buffalo styled chicken wing takes center stage as thousands of wings are cooked and enjoyed by guests. During the event, guests can listen to live music from local musicians, and participate in other special events like a wing eating competition.
Website
http://www.walknowforautismspeaks.org