Joe's Pizza (New York City)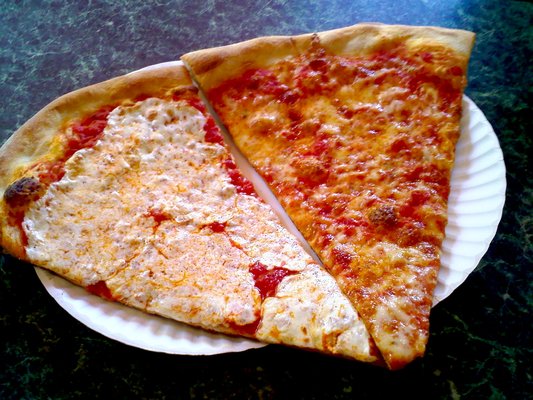 ***** Joe's Pizza, 150 East 14th Street, New York, New York 10003, (212)388-9474.
Last night, Jeff Eats and Mrs. Jeff Eats were in New York City.
Simple tale to tell you guys, last night we had pizza at Joe's Pizza (on East 14th Street) and the slices were right up there with some of best New York Slices we've ever eaten! Hole in the wall/order-pickup at the counter, handful of hi-tops. The joint only sells pizza.
An absolute must try if/when you're in the Big Apple.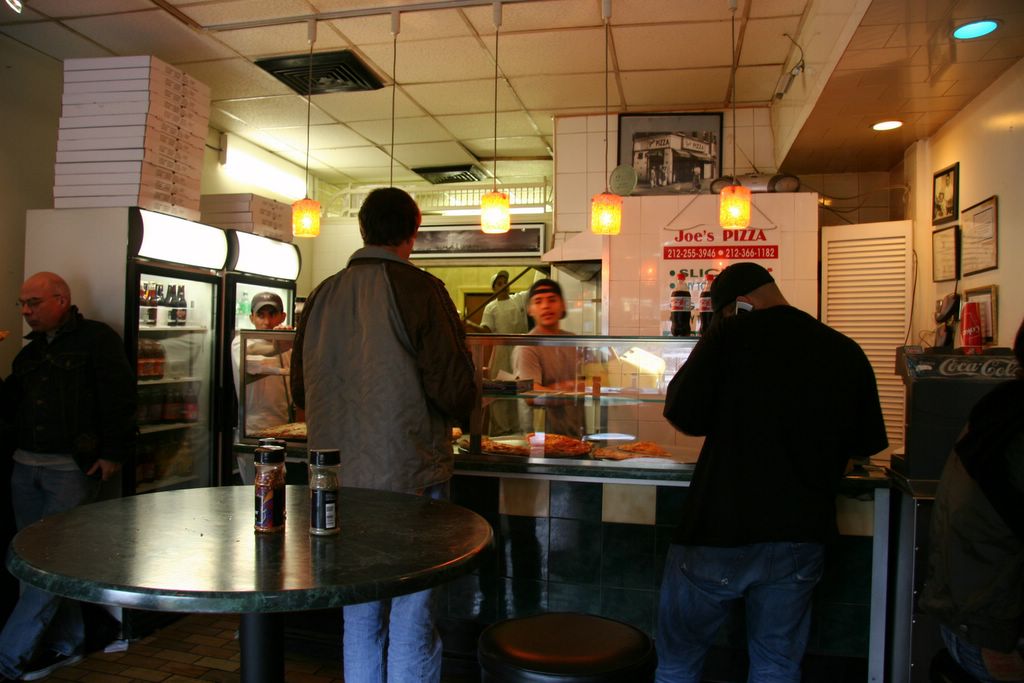 Joe's Pizza has 3 locations.
from joespizzanyc.com
Joe's Pizza
150 East 14th Street
New York, NY 10003
(212)388-9474 Joe's Pizza
7 Carmine Street
New York, NY 10014-4441
(212)366-1182 Joe's Pizza
216 Bedford Avenue
Brooklyn NY 11249
(718)388-2216
Menu
Here at Joe's Pizza, we do one thing and we do it right: Authentic, New York City Pizza. It's the same classic slice we've been serving for nearly 40 years using the same recipe and methods established in 1975, made with the finest ingredients available. All under the guidance of founder Joe Pozzuoli, who has been making great pizza since he first immigrated to the U.S. from Naples, Italy in the 1950s.
At Joe's, you wont find any pretentious concoctions nor do we serve bargain pizza made with who-knows-what. It's just the old-school, real deal New York Pizza. No string-bean, asparagus covered, wild turkey surprise pizza here.
Full Size
Plain cheese pie (8 slices): $20
+ add any topping: $24
Fresh Mozzarella pie (8 slices): $24
Sicilian Square Pie (8 slices): $24
By The Slice
Plain cheese: $2.75
+ add any topping: $3.50
Fresh Mozzarella: $3.50
Sicilian Square: $3.00
Drinks
20 oz Coke, Diet Coke, Sprite, Fanta, Dr Pepper, Snapple Iced Teas, Stewarts Cream Soda, Stewarts orange , Stewarts Cream, Black Cherry: $2
Imported Coke or Sprite (made with real sugar cane sugar): $2.50
*fresh salads sometimes available for large orders (5 pies or more)