The Temptations Review Featuring Dennis Edwards (Mardi Gras Casino- Hallandale Beach)
* The Temptations Review Featuring Dennis Edwards.
There have been many "Temptations" but the only ones inducted into the Rock & Roll Hall Of Fame are Dennis Edwards, Melvin Franklin, Eddie Kendricks, Dave Ruffin, Otis Williams and Paul Williams.
Otis "owns" The Temptations' name and tours with 4-guys who "never in a million years" would have qualified to be Temptations in the group's hey day! Franklin/Kendricks/Williams/Ruffin have passed and Dennis' tribute group has for years- mesmerized audiences with its dead-on Temptations' vocals, dance moves and style
The Temptations Review Featuring Dennis Edwards plays the Mardis Gras Casino in Hallandale Beach, Saturday, October 22, 2016 at 7pm. You can order tickets at mardisgrascasinofl.com.
from mardigrascasinofl.com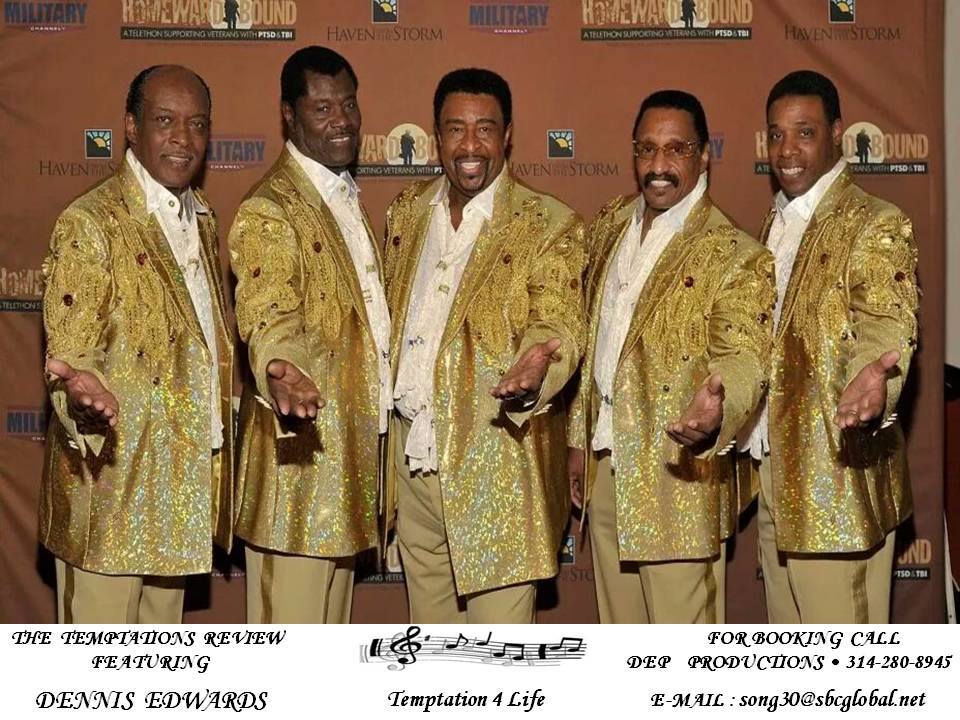 Born February 3, 1943 in Birmingham, Alabama to Reverend and Mrs. Dennis Edwards Sr., he began singing as a toddler, just two years old, in his fathers' church. His family moved to Detroit when he was seven. As a high school student, Edwards sang with the Crowns of Joy gospel group, and then in 1961 he organized his own soul/jazz group, Dennis Edwards and the Fireballs. Before joining The Contours in 1967, Edwards recorded a single for the obscure Detroit label, International Soulville Records. The single was a track called "I Didn't Have to (But I Did)" with Johnnie on the Spot.
Edwards was the first new Temptation to enter the group after their "classic five" heyday, when he replaced David Ruffin as lead singer in July 1968. The Temptations officially introduced Edwards on July 9, 1968 on stage in Valley Forge, Pennsylvania. With his rougher gospel-hewn vocals, Edwards led the group through its psychedelic, funk, and disco periods; two of the Temptations songs he appears on, "Cloud Nine" (1968) and "Papa Was a Rollin' Stone" (1972), won Grammy Awards. Edwards was the lead singer on many or the other Temptations hits including "I Cant' Get Next To you", "Ball of Confusion", "Psychedelic Shack" and "My Girl". The Temptations became one of the most successful Motown groups in the world.
In 1984 Motown re-launched Edwards' solo career, and he had a hit with the 1984 single Don't Look Any Further, which is a favorite of many fans. Dennis Edwards has received 7 Grammy Awards, 14 Gold Records, has sold over 100,000,000 recordings worldwide, is a member of the Alabama Hall of Fame and performed in Washington D.C. for the 2009 Inaugural Ball for President Obama. Edward's television credits include many guest appearances on The Oprah Winfrey Show, Trinity Broadcasting Network, Motown's 25th Anniversary, PBS Soul to Soul Special, Feed the Children and TV One – Jeff Majors Show.