Artie Fletcher (Boca Black Box- Boca Raton)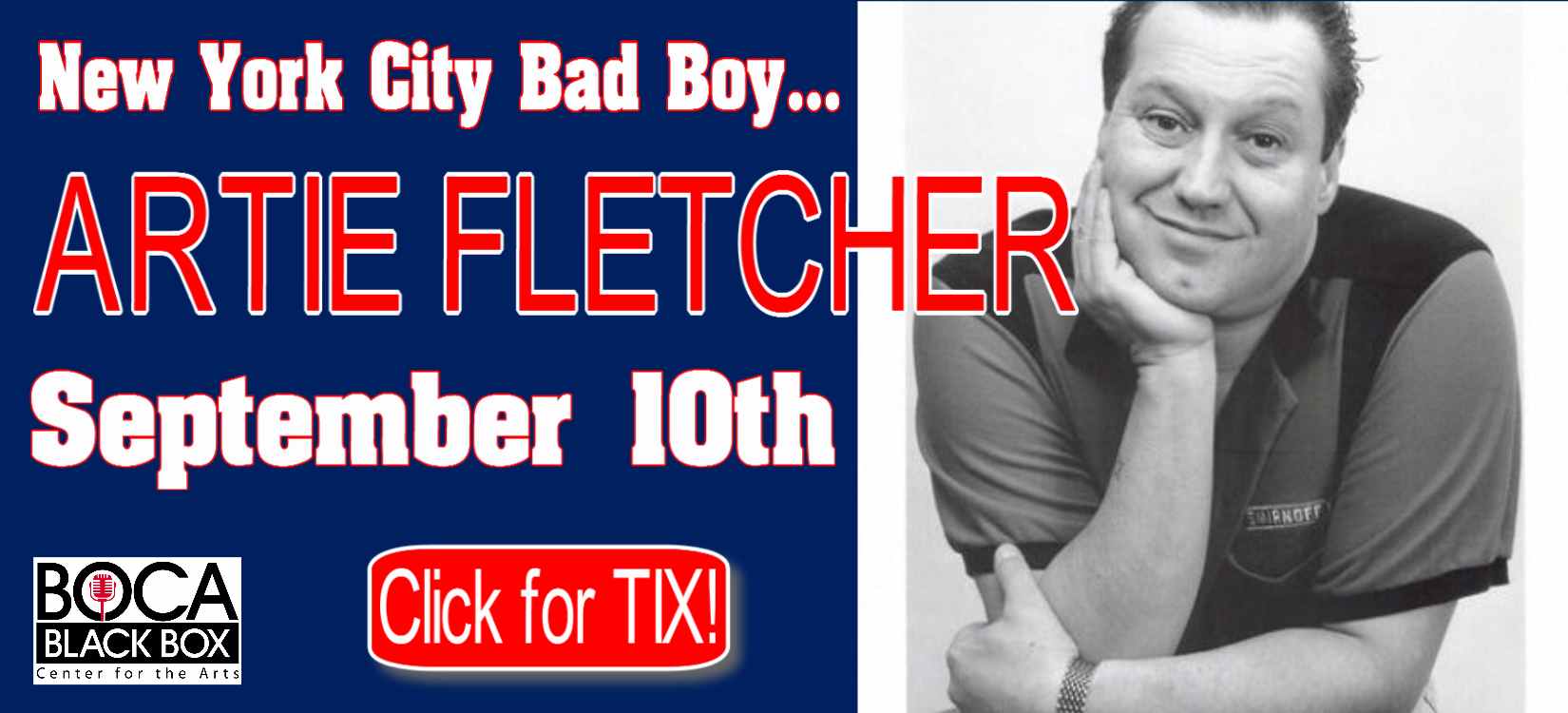 * Artie Fletcher.
Jeff Eats and Mrs. Jeff Eats have been fans of the "light blue" comedian for years!
Just picked up a pair of tickets for Fletcher's upcoming Saturday (8pm), September 10th appearance at the Boca Black Box in Boca Raton.
If you can handle the "F" word (sheesh! Jeff Eats' dog, Jiggy Jeff Eats can handle the "F" word), you will absolutely love Fletcher's hilarious take on every day life!
The Skinny:
Artie Fletcher
Sat., Sep. 10, 8 p.m.
Boca Black Box
8221 Glades Road #10
Boca Raton, Florida 33434
Box Office: 561-483-9036
Tickets: bocablackbox.com and goldstar.com (discount tickets)
from bocablackbox.com
Artie is one of the Entertainment Industry's most talked-about "must-see" performers. No stranger to Film and Television, Commercials, Voice-overs, Print and Live Stand-up Comedy, Artie is taking the industry and Newstalk Radio waves by storm. Artie has been seen on Law and Order, Conan O'Brien, David Letterman and The Tonight Show. He has performed his dynamic act in such places as Las Vegas, Atlantic City, Radio City Music Hall, Westbury Music Fair, The Toyota Comedy Festival, The Chicago Comedy Festival and Universal Orlando…to name a few. Artie performs internationally, performing for audiences in places as diverse as England, Canada, Hong Kong and ArubaHe has righteously been spotlighted in Las Vegas, Radio City Music Hall, Atlantic City and opened for the likes of Joan Rivers, Regis Philbin, Howie Mandell and Tony Bennett. Regis Philbin described Artie's ability to entertain and adjust his act to any situation as "Just unbelievable!" Joan Rivers affirmed, "The most interesting thing about Artie is that I've never seen so much energy from any person on and off stage." Through the years Artie has met many people in the business all who have said, "Black or White, it doesn't really matter, Artie is one of the hottest entertainers to watch!" Catch him at the Box this September!