NIPS- Rich & Creamy Hard Candy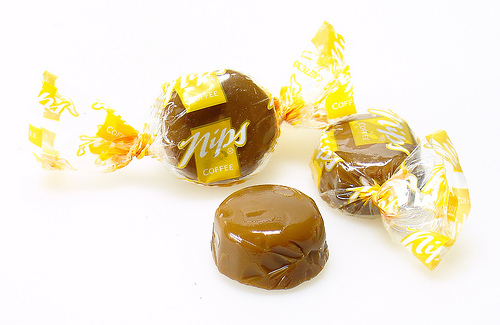 ***** NIPS- Rich & Creamy Hard Candy..
Jeff Eats has been "sucking" NIPS for as long as I can remember!
For you guys or for that matter gals- who have never "sucked" NIPS, one of the most delicious sucking candies-going!
NIPS are sold in supermarkets, convenience stores, drugstores, candy stores, you name it stores, all over Florida! You can check NestleKitchens.com for info/retail locations.
A word to the wise, SUCK NOT CHEW, unless you're into emergency dentist visits!
Jeff Eats has "sucked" all of the below listed NIPS' flavors including Sugar Free NIPS and they were/are all terrific! Just between you guys and Jeff Eats, "coffee" is my favorite flavor, but like I just said, all of the flavors are terrific!
A 4oz box of NIPS runs around 99 cents!
Once again, suck not chew!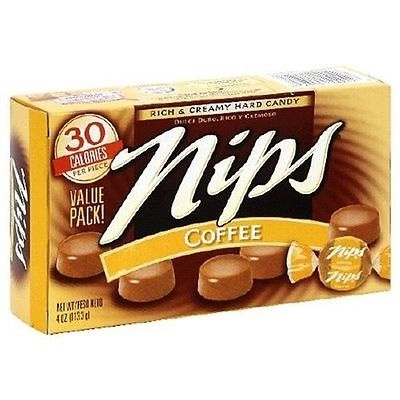 from NestleKitchens.com
For people who need a break from life's little irritations, NIPS® is the rich and creamy hard candy that provides a soothing diversion. Each NIPS candy has its own distinct and truly satisfying flavor. This hard candy is known for its smooth, creamy texture and bite-size eat with an unmistakable hint or "nip" of flavor – hence the name "NIPS".
NIPS were introduced more than 70 years ago and known as Pearson NIPS since the early 1920s. Nestlé purchased NIPS in 1989. The "Pearson" name was dropped in Fall 2000. NIPS are different from most other hard sugar candies because NIPS are a milk-based hard caramel. The dairy ingredients make NIPS' texture exceptionally smooth and creamy.
NIPS candy comes in two forms; solid candies and soft centered candies known as parfaits.
PRODUCTS
NIPS®
Sugar Free NIPS®
Flavors:
Butter Rum
Caramel
Chocolate Parfait
Coffee
Dulce de Leche
Mocha
Peanut Butter Parfait