UB40 (Pompano Beach Amphitheater- Pompano Beach)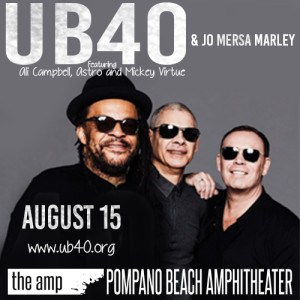 * UB40.
The below- article first appeared on February 16, 2016. Jeff Eats just checked the Pompano Beach Amphitheater's box-office and there are only a handful of tickets left for UB40's Monday- August 15th concert. So if you wanna go, you know what to do! Jeff Eats and Mrs. Jeff Eats are gonna be there- trust me, it's gonna be some show!
Posted on February 16, 2016.
* UB40.
Literally just this second, Jeff Eats received the below- email from The Pompano Beach Amphitheater.
As the old Turkish saying goes…"The early bird catches the first worm."
You now know about UB40's upcoming August 15, 2016 show at The Pompano Beach Amphitheater long before most…
Gonna be a SRO concert, so if you wanna go…
_________
UB40 on Sale 2/19 for the Pompano Beach Amp
UB40 FEATURING ALI CAMPBELL, ASTRO & MICKEY
KICK OFF NORTH AMERICAN TOUR
Legendary Reggae Group Plays The Amp, The Pompano Beach Amphitheater, in August
Special guest Jo Mersa Marley
Announce: Tuesday, February 16th at 9am EST
Public on sale: Friday, February 19th 10am (Special Pre-Sale 2/18/16 10am-10pm Use Passcode: Original)
CONCERT DATE: August 15, 2016 8pm
Tickets: $25, $45, $65 @ Ticketmaster.com
UB40 featuring Ali Campbell with Astro & Mickey Virtue, the founding members of the legendary reggae/pop ensemble that blazed a multicultural musical path with such global hits as "Red Red Wine" and "(I Can't Help) Falling In Love With You," are returning for a series of summer dates.
Due to the overwhelming success of their sold-out 2015 tour, the band is launching a North American tour, which includes a performance at The Amp, The Pompano Beach Amphitheater, on August 15th at 8pm. Tickets $25, $45, $65 through Ticketmaster.com. For more information, www.pompanobeacharts.org or call 954-519-5500.
UB40, which will spend the spring playing U.K and European Arena tour dates, have forged their signature high-energy, funky performances with an 11-piece touring ensemble, complete with a three-piece horn section. Since reuniting two years ago, lead vocalist Ali Campbell along with percussionist/trumpeter/vocalist Astro and Mickey Virtue on keyboards have become a formidable touring outfit with highly successful treks to South America, Nigeria, South Africa, Dubai, Papua New Guinea and Australia. The band showcases their enduring hits from their cannon of songs like "Kingston Town" and "Food for Thought" and others.
Formed in 1979, UB40 helped define reggae music for a generation, transforming their working class roots into a global clarion call. The pioneering reggae troupe topped the UK singles chart on three occasions, earned multiple Grammy nominations and sold 70 million records worldwide as they took their smooth yet rootsy musical blend to all corners of the globe.