Two Guys From Long Island…Walk Into A Bar (Boca Black Box- Boca Raton)
* Two Guys From Long Island…Walk Into A Bar.
Two of America's top-notch "clean" comedians Al Romas and John Consoli team-up for "Two Guys From Long Island…Walk Into A Bar" a must see show at the Boca Black Box on Sunday, September 18, 2016 at 7pm!
Jeff Eats and Mrs. Jeff Eats have seen both Romas and Consoli's stand-up acts and they absolutely kill!
If you wanna go see them…
Two Guys From Long Island…Walk Into A Bar
Sunday, September, 18, 2016 (7pm)
Boca Black Box
8221 Glades Road #10
Boca Raton,FL 33434
Box Office: 561.483.9036
Tickets: bocablackbox.com. goldstar.com (discount tickets)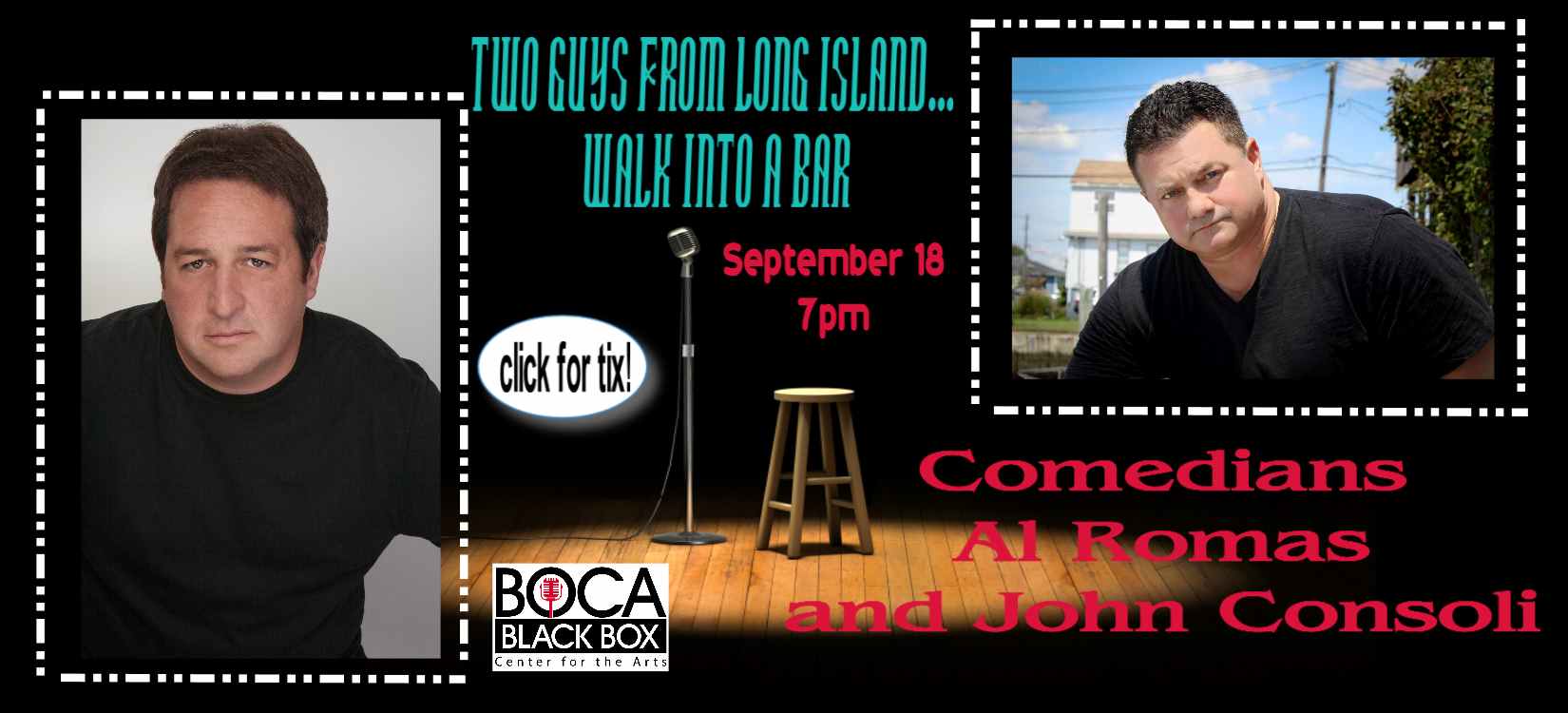 from bocablackbox.com
What happens when you have one comedian from Long Island? You get an evening of hysterical humor. BUT, what happens when you have two comedians from Long Island? You get an uproariously evening of hilarity that will surely tickle your funny bone.
So don't miss the show critics are going to call the new Odd Couple: Two Guys from Long Island… walk into a bar.
Al Romas is an established headliner who has delighted audiences in an impressive list of venues ranging from Radio City Music Hall for ESPN's Espy Awards to Las Vegas, Atlantic City and various major Cruise Lines. You may have seen him on: VH1's "Standup Spotlight" , A&E's "Evening at the Improv" , MTV's "Half Hour Comedy Hour" and Comedy Central's "Short Attention Span Theater."
John Consoli is a stand-up comedian from Long Island. His act pulls from all facets of his life experience as the product of a broken but hysterical home, a husband, father, ex-husband and a guy who's starting to realize that life is trying really hard to pass him by.John's quick wit and ability to improvise make him a great fit for virtually any venue. John also performs as a one man show at theaters all over the north-eastern USA, most recently at the Courtyard Theater in Selinsgrove PA.