Rick Corso "Found at Sea" (Boca Black Box- Boca Raton)
* Rick Corso "Found at Sea".
Jeff Eats and Mrs. Jeff Eats just picked-up a pair of tickets for- Rick Corso "Found at Sea" at the Boca Black Box on Friday, August 5th (8pm).
Real simple tale to tell you guys, Rick Corso is a very funny "clean" comedian currently working America's comedy club/casino/convention/cruise ship circuit. Jeff Eats and Mrs. Jeff Eats have seen Corso's stand-up act and it- absolutely kills!
Not quite convinced as to how funny Rick Corso is?- checkout the videos at rickcorso.cm.
If you'd like tickets…
Rick Corso "Found at Sea"
Friday, August 5, 2016 (8pm)
Boca Black Box
8221 Glades Road #10
Boca Raton,FL 33434
Box Office: 561.483.9036
Tickets: bocablackbox.com. goldstar.com (discount tickets)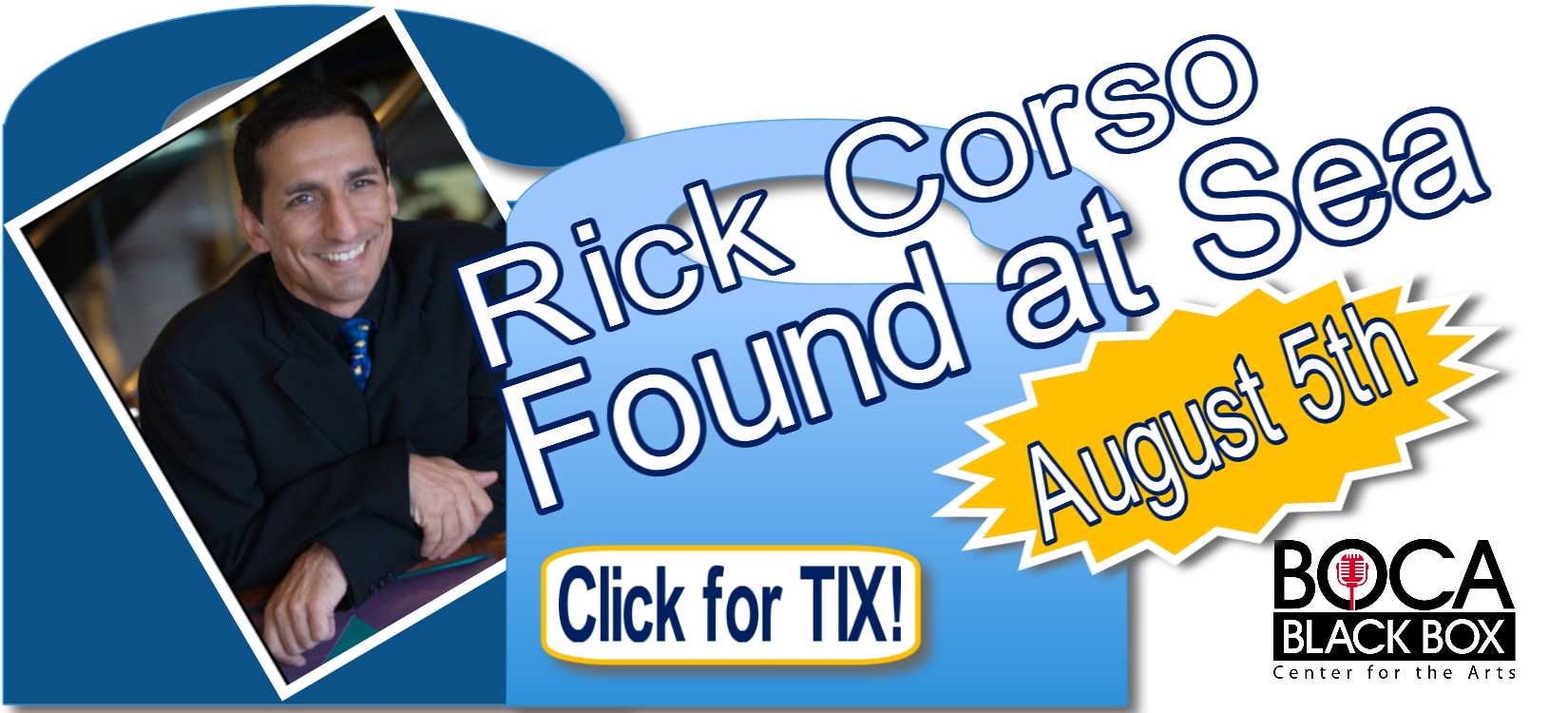 from bocablackbox.com
The Show
"Found at Sea" is a hilarious comedy show starring comedian Rick Corso.
Plenty of jokes, stories, impressions and music about life on land and cruise ships. Rick constantly performs on nearly every cruise line including the world's largest ships where he is currently a huge favorite. He's rarely on land so we took this opportunity to have him bring his comedy along with his friends and other ship favorites Comedy Juggler Billy Prudhomme and Comedian Carl Guerra to the Boca Black Box for one night only.
Bio
Originally from New Jersey, now a South Florida Resident, Rick Corso spent twenty-two years as a Los Angels comedian. He's made over thirty national television appearances, was selected as one of Showtime's Comedy Club All-stars and also picked to be a member of Comedy Central's "The A-List. " He moves smoothly in and out of characters and some lively impressions. His excellent use of his voice and his body combined with well-written material make his stage personalities freshly funny and a far cry from the stale stereotypes employed by many stand-ups.