29th Annual Dancin' in the Streets (Stuart)
* 29th Annual Dancin' in the Streets.
Not exactly sure as to why Jeff Eats and Mrs. Jeff Eats have never "done" Dancin' in the Streets before…
Just purchased 2-General Admission Tickets and 2-Tickets to see The Outlaws at The Lyric Theatre.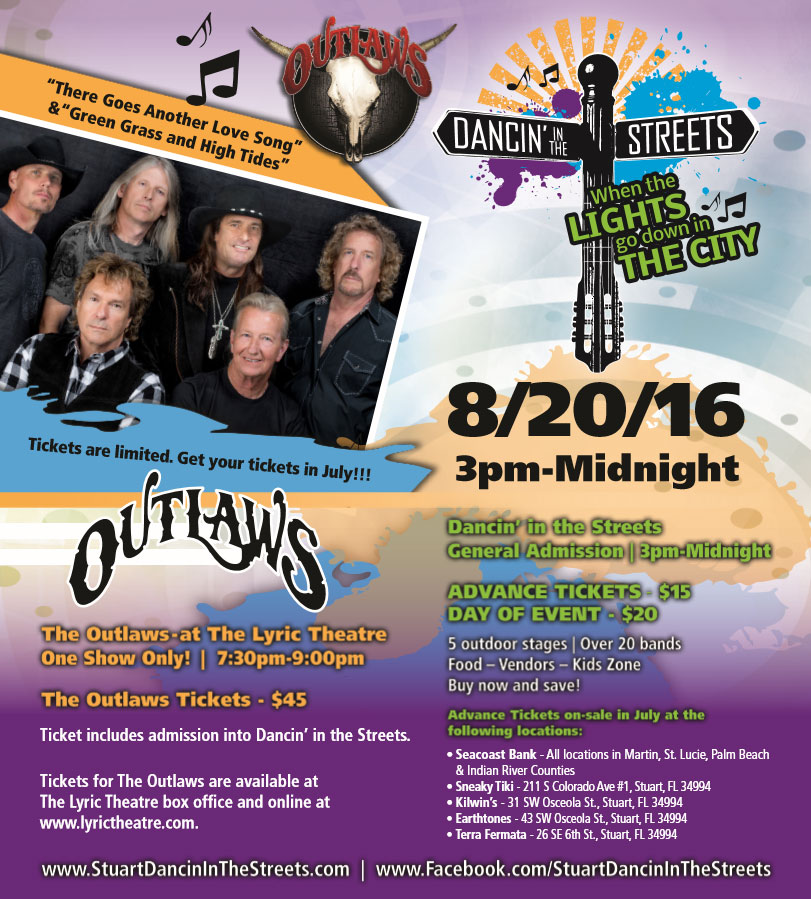 from StuartDancinInTheStreets.com
The Downtown Stu­art Busi­ness Asso­ci­a­tion has announced the 2016 lineup of musi­cal acts for the 29th Annual Dancin' in the Streets! The largest street party and music fes­ti­val on the Trea­sure Coast will take place on six stages with over twenty bands from 3 p.m. — mid­night on Sat., Aug. 20 in Down­town Stuart.
Anchor­ing the fes­ti­val will be national head­lin­ers The Out­laws in a lim­ited seat­ing spe­cial per­for­mance at The Lyric The­atre. Round­ing out this year's lineup will be Ben Prestage, Pub­lic Sounds Col­lec­tive, Nou­veaux Honkies, The Humdingers and JessLee on stage one. Stage two includes The Sierra Band, Sis­ter Baby, Nashville record­ing artist Raquel Ren­ner and the Ram­blers, Ladies of Soul and Relapse Band. Bryce Allyn Band, Smok­ing Sec­tion, Morn­ing Fatty and Moska Project will per­form on stage three. Tony Solomon and Full­house Enter­tain­ment present local ama­teurs and up and com­ers on stage four. And stage five includes per­form­ers Cas­sidy Diana, Chris King, 10k Hours, Deal James and Sum­mer Gill, Sting Assas­sins and Ryan & Friends.
"Every year Dancin' in the Streets brings incred­i­ble energy and fun to His­toric Down­town Stu­art," said event chair Bill Moore. "This year promises to con­tinue the tra­di­tion and deliver an amaz­ing evening of live music, danc­ing, tal­ent and com­mu­nity spirit."
Lim­ited tick­ets for this spe­cial indoor per­for­mance by head­liner The Out­laws will be avail­able start­ing in July at The Lyric The­atre box office and online at www.lyrictheatre.com. Gen­eral admis­sion tick­ets will be avail­able start­ing in July at Sea­coast Bank loca­tions in Mar­tin, St. Lucie, Palm Beach and Indian River Coun­ties, at Sneaky Tiki, and at Kilwin's Choco­late and Ice Cream in Down­town Stuart.
Every year, the streets of Down­town Stu­art shut down and the com­mu­nity comes out for a day of live musi­cal per­for­mances, food, drinks, ven­dors, kids activ­i­ties and of course – danc­ing in the streets! It all began in the Sum­mer of 1987, when a call was made to com­mu­nity lead­ers from the Stuart/Martin Cham­ber of Com­merce to brain­storm a fundrais­ing event that would keep the newly estab­lished Stu­art Main Street pro­gram alive. Twenty-nine years later, Down­town Stu­art is still Dancin' in the Streets! Today, the event is pre­sented by the Down­town Busi­ness Asso­ci­a­tion of Stu­art and Stu­art Main Street. It con­tin­ues to be Down­town Stuart's biggest fundrais­ing event, draw­ing thou­sands of peo­ple to the area each year. Funds from Dancin' in the Streets sup­port down­town revi­tal­iza­tion efforts like out­door din­ing, the River­walk expan­sion, and free com­mu­nity events includ­ing Hob­gob­lins on Main Street, Rock'n River­walk and Christ­mas on Main Street. In the past decade alone, Dancin' has brought nearly 65,000 peo­ple down­town and raised almost a half-million dollars.
The event also sup­ports vol­un­teer groups from com­mu­nity non-profits. In 2015 con­tri­bu­tions were made to the Humane Soci­ety of the Trea­sure Coast, the Stu­art Police Explor­ers Pro­gram, Road to Vic­tory Mil­i­tary Museum, House of Hope and Mar­tin Volunteers.
Dancin' in the Streets is spon­sored by Coast 101.3, Cour­t­house Com­mons, LLC, Bud Light, Sea­coast Bank, The Boat House, and Mulligan's Beach House. For more infor­ma­tion, visit StuartDancinIntheStreets.com or facebook.com/stuartdancininthestreets.